Fortune among YWCA honorees
Jul. 13, 2011, 6:03 PM
Seven Nashville women were announced as inductees into the 2011 Academy for Women of Achievement. These women will be honored at the 20th annual Academy for Women of Achievement celebration and induction dinner, presented by YWCA of Nashville and Middle Tennessee and First Tennessee, to be held Tuesday, Oct. 25.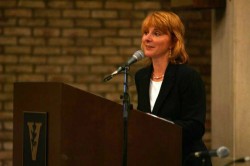 The 2011 honorees are: Beth Fortune, vice chancellor for public affairs, Vanderbilt University; Patricia I. Hart, community volunteer; Mary Lee Manier, retired library director, Harpeth Hall; Linda Eskind Rebrovick, president and chief executive officer, Consensus Point; Sharon K. Roberson, senior vice president and chief operations officer, American General Life and Accident Insurance Company; Janis Sontany, representative for the 53rd District, Tennessee House of Representatives; Katy Varney, partner, McNeely Pigott and Fox Public Relations.
Meharry Medical College has been selected as the 2011 corporate honoree. Corporate honorees are chosen based on their commitment to helping women enter the work force and advance in their careers, and for providing a positive work environment for female employees.
The Academy for Women of Achievement was launched locally in 1992 by the YWCA of Nashville and Middle Tennessee. The Academy honors women who, through excellence and leadership in their chosen fields, serve as role models for other women. This year's recipients join 111 other women who hold this distinctive honor.
"The 2011 honorees demonstrate courage and leadership at the highest level of excellence through their tireless work to build a better community," said Doyle Rippee, Middle Tennessee market president for First Tennessee. "As part of First Tennessee's ongoing commitment to providing women with the tools they need to break barriers and achieve their goals, we are honored to serve as the AWA title sponsor for the sixth consecutive year."
The Academy judging committee, composed of business and community leaders, chose the honorees from an exceptional list of nominees.
"The YWCA is proud to pay tribute to the corporate honoree and these seven remarkable women by recognizing the outstanding work they have done in Middle Tennessee and beyond," said Billye Sanders, who is co-chairing the event with Elizabeth Seigenthaler Courtney. "They are remarkable leaders who are an inspiration to us all."
The awards celebration will be held Oct. 25, (reception at 5:45 p.m., program and dinner at 7 p.m.) at the Renaissance Nashville Hotel. Tickets are $175 per person ($105 tax-deductible) and tables are available for $1,750. Tickets and tables can be purchased before Oct. 24 by calling (615) 983-5102. For more information about the YWCA Academy for Women of Achievement, please visit www.ywcanashville.com.
To purchase tickets or tables for this year's event, please click here.