Construction near Kirkland wrapping up
by
Joan Brasher
Jul. 12, 2011, 3:08 PM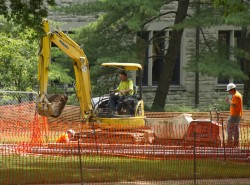 The area around Kirkland Hall has been a hub of construction activity over the past few weeks, but several of the projects are wrapping up.
The construction is necessary so that power can be routed directly to Wilson Hall before work can begin on the new college halls expansion at Kissam at the end of the next academic year.
Contractors will begin removing sidewalks and asphalt on the Kissam side of the Kirkland esplanade, or drive-through this week. That area will be returned to service by Aug. 3.
Work on sidewalks in front of Garland and Calhoun is now complete. Repair of the sidewalk at Buttrick Hall near Rand is also complete.
Repair and replacement of all paved surfaces, along with new sod installation to repair disturbed lawn areas, is scheduled for completion by Aug. 5.
All construction around Kirkland is scheduled to be concluded before students return to campus in August. Power to Kirkland, Wilson and other buildings should not be affected during construction.