Vanderbilt to host NCAA Women's Golf Championship
Jul. 4, 2011, 9:22 AM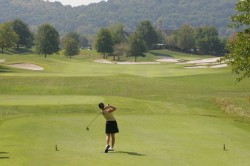 The NCAA Division I Women's Golf Committee announced that the Vanderbilt Legends Club in Franklin, Tenn., will host the the 2012 NCAA Division I Women's Golf Championships May 22-25.
"Our committee is thrilled to have the opportunity to take our championships to Franklin and the Vanderbilt Legends Club." said Nancy L. Cross, chair of the NCAA Division I Women's Golf Committee and senior associate athletics director and senior woman administrator at Purdue University. "We are confident the rich tradition of hosting major college and LPGA events, and the enthusiasm of the Legends and Vanderbilt athletics staff members who will serve as the hosts, will make this an incredible championship experience for our student-athletes."
"What a tremendous honor for Vanderbilt University to host our national championship," said Vanderbilt head women's golf coach Greg Allen. "For the past nine years, Vanderbilt Legends Club has played host to the best teams in the country at our annual Mason Rudolph Championship. It's the perfect venue for this championship, and there is no doubt that the Vanderbilt Legends Club staff and membership will do an outstanding job. Since the LPGA is no longer in town, May 2012 should be on every golf fan's calendar."
Stay tuned for more information on volunteer opportunities on the official website of Vanderbilt Athletics.