U2 stage taking shape at Vanderbilt Stadium
by
Kara Furlong
Jun. 28, 2011, 5:12 PM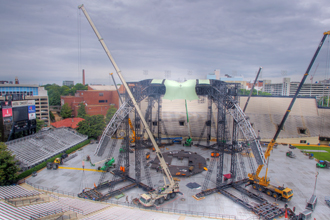 Excitement is building for this weekend, when legendary rock group U2 will bring its 360 Tour to Vanderbilt Stadium on Saturday, July 2.
The concert – U2's first performance in Nashville in 30 years – will begin at 7 p.m. with opening act Florence and the Machine. U2 last performed in Music City on Dec. 2, 1981.
U2 has created an unobstructed 360-degree viewing experience for concertgoers, with a cylindrical video system of interlocking LED panels and a steel structure rising 150 feet from the ground over a massive stage with rotating bridges. Construction is currently under way at Vanderbilt Stadium, which has an official seating capacity of 39,790 – far more intimate than the 80,000-plus capacity of venues the band is playing elsewhere on its tour.
Vanderbilt Stadium has hosted concerts in the past, including Pink Floyd in 1994, The Rolling Stones in 1997 and Dave Matthews Band in 2009.
For comprehensive information on U2's tour stop at Vanderbilt, visit the U2 FAQ page.