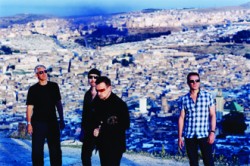 One of the biggest and most anticipated events of the summer at Vanderbilt and in Nashville will be a concert July 2 by the band U2 at Vanderbilt Stadium. As excitement builds, so do questions about negotiating campus that day. Here are the answers to some of the most frequently asked questions about the show.
Q: Is there a website where fans can get updated information about arrangements for the concert?
A: Yes. http://www.vanderbilt.edu/u2
Q: When can fans line up to enter Vanderbilt Stadium for the show? Is there a separate entrance for fan club members?
A: Fans are welcome to get in line starting at 6 a.m. July 2. General Admission ticketholders will be admitted on a first-come, first-served basis. There is no separate entrance for fan club members. The General Admission line will begin at the tunnel entrance on Jess Neely Drive. Doors open for General Admission and field seats at 4:45 p.m. and for all other seats at 5 p.m. Showtime is 7 p.m. See a map of Vanderbilt Stadium.
Q. Where do I pick up Will Call tickets? How early can I pick them up?
A. There will be a Will Call tent set up on Jess Neely Drive between Vanderbilt Stadium and the McGugin Center. The tent will open at 9 a.m. on July 2.
Q: Are there seats in the General Admission area? Can I bring a chair?
A: The General Admission area is a standing area. There are no seats provided. You may not bring chairs into the stadium. You may bring a blanket.
Q: How will parking be set up?
A: Parking will be available for the general public in medical center lots (73-75 series), the 25th Avenue Garage, Kensington Garage, West Garage (Lot 30 on the parking map), South Garage and Wesley Place Garage. All spaces in these designated areas–except handicapped spaces–are available for concert parking, including starred spaces normally reserved during football games. There will be additional parking for people with disabilities at the 25th Avenue Garage. A parking map is available here. You may find the new West Garage on our Campus Map. Parking opens for the concert 6 a.m. July 2.
Q: How much will parking cost? Can I use my Vanderbilt parking pass?
A: Depending on the location of the parking space, the price for parking on campus will range from $10 to $30. Anyone with a valid University (Central or Medical Center) parking permit will be allowed free parking in any of the following garages: Wesley, Terrace, West and the 25th Avenue Garage.
Q: Will there be street closures?
A: Yes. Beginning Friday, July 1, at 6 a.m. through midnight Saturday, July 2, the following streets will be closed:
Natchez Trace (from the Marriott Driveway to Children's Place)
Jess Neely Drive (from 25th Avenue South to Natchez Trace)
Kensington Place (from Natchez Trace to Kensington Garage)
Saturday, July 2, after the concert:
Vanderbilt Place will be closed from 10 p.m. to midnight.
25th Avenue South will become a one-way street to West End from 10 p.m. to midnight.
Q: Will tailgating be allowed in Vanderbilt parking lots prior to the show?
A: Tailgating will be allowed on July 2.
Q: If fans take a taxi to Vanderbilt the day of the concert, where will they be dropped off?
A: Taxi drivers are being instructed to drop off and later pick up their fares on West End Avenue between Natchez Trace and 25th Avenue South, in the parking meter lane adjacent to the 2525 office building to the south. A Vanderbilt University police officer will be on hand to direct traffic.
Q: Will there be parking for recreational vehicles?
A: There will not be parking on campus for R.V.'s.
Q: What items will not be allowed in the stadium?
A: The following items will not be allowed in the stadium:
animals, except for service animals for guests with disabilities
banners and flags larger than 8½ by 11 inches
food or beverages other than that sold on site
bottles, coolers and containers; noisemakers such as air horns and whistles
laser pointers, flashlights or glow sticks
inflatable items including balloons and beach balls
radios
televisions
umbrellas
video recorders
cameras with lenses over 3 inches
backpacks and bags larger than 8½ by 11 inches
weapons
fireworks
strollers
chairs/cushions/stadium seats

Q: Will alcohol be sold at the concert? Is smoking allowed?
A: Beer will be available at concession stands inside the stadium. Smoking is prohibited in the stadium.
Q: Can we buy beer and concessions with credit cards at the event?
A: Cash, credit and debit cards will be accepted at the concession stands.
Q: Will there be separate lines for getting a wristband to buy alcohol, and then buying beer?
A: No. Identification will be presented at the concession stand when purchasing beer.
Q: What happens if it rains?
A: The U2 concert will be performed rain or shine. The show could be delayed and fans directed to safe areas if threatening weather occurs.
Q: What if I require special assistance?
A: Anyone can request special assistance at the ticket office at the stadium and staff will do their best to accommodate.
Q: How can I share my experience?
A: Tag your tweets on Twitter! #U2VU
Map of Vanderbilt Stadium>>
[campusmap]