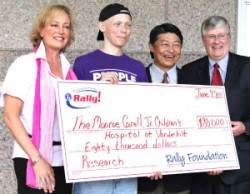 Rally Foundation, a national non-profit organization committed to childhood cancer research, has awarded an $80,000 grant to the Monroe Carell Jr. Children's Hospital at Vanderbilt.
The two-year grant will fund a research study on the treatment of neuroblastoma, a cancer that forms in the nervous tissue and primarily affects infants and young children.
"We appreciate Rally's support for our critical neuroblastoma research," said Dai Chung, professor of pediatric surgery at Vanderbilt. "[rquote]This research will lead to continued breakthroughs in successfully treating the disease and improve our insights into the effects of current treatments.[/rquote]"
Funding for the grant was made possible by Rally volunteers' grassroots fundraising efforts in Nashville, including the Rally Mania Concert and the 2011 Nash Bash.
Rally Foundation has given more than $2.2 million in grants across the country in its efforts to find better treatments for childhood cancer with fewer long-term side effects and, ultimately, cures.