Corbin added to iconic coaches mural
by
Joan Brasher
Jun. 16, 2011, 3:59 PM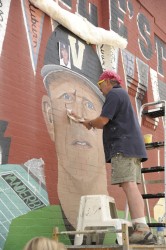 The likeness of Vanderbilt's head baseball coach Tim Corbin at last appears on a popular Nashville mural. The final brush strokes were being made just as the coach and his team landed in Omaha, Neb., for Vanderbilt's first outing at the College World Series. Corbin has been Vanderbilt's head baseball coach for the past nine years, taking the current team to its best season in Commodore baseball history.
Painted on the side of the Verizon store at the corner of 28th and West End avenues by artisan Michael Cooper, the iconic coaches mural features Vanderbilt's head basketball coaches Kevin Stallings and Melanie Balcomb, as well as new head football coach James Franklin.
Cooper began the coaches mural in 1992 and has been updating it ever since. Until now, it has only featured basketball and football head coaches. The mural isn't owned by Vanderbilt or located on Vanderbilt's property, so any additions to it are paid for through private donations.
Cooper said Corbin himself stopped by on his way to the airport on the morning of June 15 to check in on the artist, who had just begun mapping out the portrait. Severe weather delayed production for a time, but by the next afternoon, a striking likeness of Corbin was complete. Cooper put in about 12 hours of painting time overall, he said. He worked from Corbin's official Vanderbilt athletics head shot, which he taped to the wall for reference as he worked.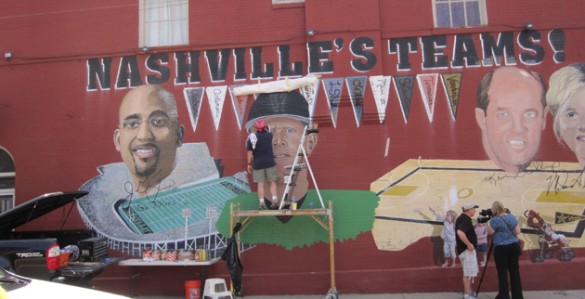 "This is something people have been wanting for a long time, especially the last two years," said Cooper. "People are always asking me, 'When are you going to put Corbin up there?' Well, now he's here."
The Commodores will play their first game in the College World Series on Saturday, June 18, at 1 p.m. CST. It will be broadcast on ESPN and on local talk radio station AM560.
To follow the team's progress, visit the official Vanderbilt Commodores baseball website.