Vanderbilt ambulances adopting new Black and Gold look
Jun. 13, 2011, 1:52 PM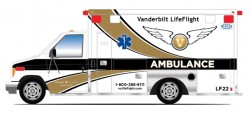 Vanderbilt LifeFlight will soon be changing its ground ambulance fleet from the formerly state-mandated orange and white colors to Vanderbilt black and gold.
The move is prompted by a change in Tennessee's rules and regulations regarding the appearance of the state's ambulances. Since the 1970s Tennessee ambulances have been solid white with an orange stripe. The change in the law will allow ambulance programs across the state to assume a variety of colors.
The new rules went into effect last August; however EMS providers have been slow to make changes because once they change one ambulance in their fleet, they have one year to make a consistent change in appearance to their entire fleet.
LifeFlight's ambulances, which provide ground transport for a variety of patients including the Event Medicine division, will mirror the color and design scheme on LifeFlight's helicopters, with a swooping black and gold element highlighted with LifeFlight's "wings."
LifeFlight isn't the only ground ambulance program making a change. Several EMS departments across the state have changed, or are in the process of changing, ambulance colors, including Memphis Fire/EMS, Davidson County Rescue Squad, All Star Ambulance (Memphis), Medic One Medical Response (Unicoi County) and Maury Regional Medical Center EMS.
"We're very excited to be able to make this change and appreciate the hard work of our State EMS officials in guiding us through the new process," said Jeanne Yeatman, director of LifeFlight.
Jamie Mullican, the owner of WrapArtist.com, created the new design for the ambulances. He worked with Vanderbilt University Medical Center's Strategic Marketing and Communications Department to capture the look.
LifeFlight's Event Medicine division provides coverage for all Vanderbilt Athletics events, as well as all events at Bridgestone Arena, the CMA Music Festival, Iroquois Steeplechase and the Women's Running Magazine Women's Half Marathon.
Contact: Jerry Jones    615-343-6086
jerry.jones@vanderbilt.edu