Zeppos receives 'Promote Women Award' from CABLE
Jun. 9, 2011, 3:46 PM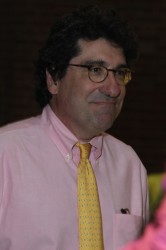 Vanderbilt Chancellor Nicholas S. Zeppos has received Nashville CABLE's "Promote Women Award," given to exemplars of gender diversity and community service. Pat Shea, president and CEO of the YWCA of Nashville and Middle Tennessee, also received the award, announced June 7.
"Under Zeppos' leadership, Vanderbilt programs have encouraged employee volunteerism and provided financial support to pivotal women's organizations in the community," said LoLita Toney, CABLE president.
"And Pat Shea has never faltered in effecting positive change for the lives of women, girls and families, taking a 113-year-old highly valued organization to greater heights than ever before," she said.
Zeppos and Shea were evaluated based on nominations from the 500-strong CABLE membership, with final selection by the Awards Committee. They were recognized as part of the annual CABLE awards program and luncheon held June 8 at the Nashville Airport Marriott.
The 2011 CABLE award recipients are:
Promote Women Award
Nicholas S. Zeppos, Vanderbilt University
Pat Shea, YWCA of Nashville and Middle Tennessee
Civic Outreach Award
Tracy Rode, Vision 3 Interactive Media
Molly Todd Cup
Doris Medlin
Networking Award
Lynn Manzelmann (posthumously)
Lynn Manzelmann Networking Award
Kacky Fell, Hatcher & Fell Photography
Rising Star Award
June Manning, VerusMed
Spirit of Leadership
Ann Pruitt, Dell, Inc.
President's Above & Beyond Award
Lisa Shacklett, Lipscomb University
ATHENA Nominee
Jean Schmidt, Education Networks of America
"These impressive leaders showcase not only our strength as a networking group, but also CABLE's capacity to help Tennessee women achieve new levels of professional success," Toney said. "Congratulations to this year's impressive list of CABLE award recipients."