Media Inquiries
Latest Stories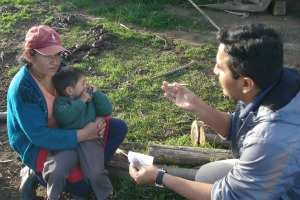 Carlos Grijalva, M.D., MPH, assistant professor of Preventive Medicine, has received a $500,000 grant from the Thrasher Foundation to study a leading killer of young children worldwide.
Grijalva will go to the rural areas of the Peruvian Andes to examine pneumonia in children in the hopes of describing the association between common respiratory viral infections and bacterial infection.
According to the Child Health Epidemiology Reference Group of WHO and UNICEF, 1.6 million children under age 5 die from acute respiratory infections (ARIs), or pneumonia, every year in the developing world. What makes many pneumonia cases so severe, especially in developing countries, is unknown.
"[rquote]We know that many young children carry Streptococcus pneumoniae (pneumococcus) in their noses, and don't get sick, so we wanted to look at acquisition.[/rquote] Children appear to be most susceptible to respiratory illness when they are first colonized, so we wanted to see if previous infection with influenza or other respiratory viruses might facilitate acquisition and cause the most severe cases," Grijalva said.
Understanding the relationship between viruses and bacteria when they infect young hosts is a new but important area of research. Influenza viruses are a major cause of ARIs and affect as many as a third of children in the United States each year. ARIs may make the bacteria that normally live in the nose and throat capable of spreading to the lungs, causing pneumonia.
But the theory that acquisition of pneumococcus is key in causing severe respiratory infection is difficult to study. Long-standing vaccination programs with pneumococcal conjugate and influenza vaccines in industrialized nations like the United States make it hard to study how those infections work.
An estimated 50 percent of young U.S. children carry pneumococcus in their noses, while preliminary data suggests 80 percent of Andean children do. This is the reason researchers like Grijalva are turning to developing countries, like Peru, where community-wide vaccination programs are relatively new and co-mingling of these germs is still common.
"[lquote]In developing countries, cooking with open fires or stoves without chimneys is common. The smoke from these fires could also make it easier for children to develop serious pneumonia.[/lquote] This new study will be conducted in rural areas so we will be able to look at this as a potential contributor as well," Grijalva said.
Peruvian children under age 3 will be followed for one year through weekly household visits. Researchers will travel by motorbike to these communities, where people may have limited access to health care services. Vanderbilt will examine samples for respiratory viruses and Emory University will examine samples for presence of bacteria.
Vanderbilt investigators include Kathryn Edwards, M.D., John Williams, M.D., and Marie Griffin, M.D., MPH. Peruvian investigators include Claudio Lanata, M.D., MPH, and Ana Gil, M.Sc.