Farmers' market returns to Vanderbilt
Jun. 8, 2011, 4:31 PM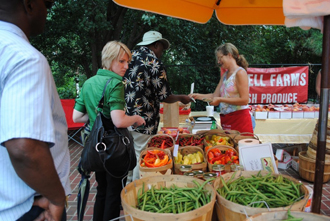 It's that time of year again! The Vanderbilt Farmers' Market is in full swing every Thursday from 3 to 6 p.m. on Medical Center Plaza. Come by Thursday, June 9, and enjoy live music provided by Blair School of Music.
Check out the June edition of What's in Season to learn what you can find at the Vanderbilt Farmers' Market during June. There's also a delicious recipe for fresh peach and spinach salad.
All through the season, you can visit the Health Plus website to stay up-to-date with the latest seasonal highlights, recipes, vendor spotlights and more.
The Vanderbilt Farmers' Market is a collaboration among Health Plus, the Monroe Carell Jr. Children's Hospital at Vanderbilt and the Nashville Farmers' Market.