A new program for faculty and staff provides backup care for adults, children – and even yourself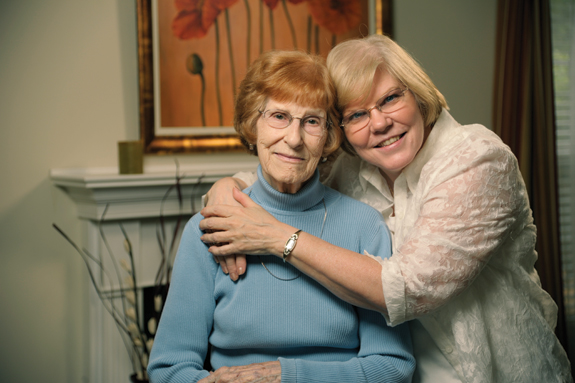 Last August, Bev Wallace left Michigan and moved to Nashville with her 82-year-old mother and her 84-year-old father. They bought a home in Franklin, just three miles from Wallace's oldest daughter and son-in-law so that they could all take care of each other.
But even with such a strong support system, Wallace found herself in a pinch one day in January when neither she nor her daughter was available to take her mother to a doctor's appointment.
"Where do you turn? What do you do?" said Wallace, an administrative assistant at Vanderbilt-Ingram Cancer Center. She decided to call Parents in a Pinch.
Vanderbilt began providing a backup care benefit through Parents in a Pinch in July 2010. Each benefits-eligible employee gets 20 days per contract year (July 1–June 30) of backup or emergency in-home care from a pre-screened provider. The employee pays $13 per hour for child care or $15 per hour for adult care (outside Tennessee, adult care costs between $15 and $20 per hour).
"The name Parents in a Pinch is a little bit deceiving," said Diane Neighbors, director of the Vanderbilt Child and Family Center, who helped establish Vanderbilt's agreement with Parents in a Pinch. "The company started out years ago with backup child care, but now they've expanded."
When Wallace called the Parents in a Pinch number, she was matched with a caregiver based in Murfreesboro to take her mother to her doctor's appointment.
"My mom is nervous around new people," Wallace said. "But when the caregiver met her at the door, they had a good conversation. When he called the day before for directions, he also found out things they could talk about, like being from Michigan. They talked the whole time."
The backup care benefit was developed in response to a growing awareness of the challenges Vanderbilt faculty and staff are facing.
"Over the years folks had asked about backup care when a child is sick or there's a snow day," Neighbors said. "Then we began hearing more and more from employees with elderly parents or spouses, asking, 'What am I going to do? I can't take off to stay home with them.'"
It's a dilemma that more people are confronting with an aging population, combined with the demands of career and family. Vanderbilt is a leader among top universities in offering a backup care benefit to employees. Parents in a Pinch, based in Massachusetts, was chosen to provide the benefit after extensive research that included benchmarking against peer universities. The company's national network of caregivers also provides employees with the flexibility of caring for parents who live in other cities or finding quality child care when travelling for work or vacation.
"[rquote]Balancing the responsibilities of work with the responsibilities of home can result in stress and guilt on both sides," Neighbors observed. "Knowing that Vanderbilt offers a backup care option helps in dealing with these conflicting demands."[/rquote]
In January, Tina French, an evidence-based medicine specialist at Vanderbilt University Medical Center, was trying to manage that balancing act. She was scrambling to find backup care for her 78-year-old father. He was soon to be discharged from a weeks-long stint in rehab following knee replacement surgery, but neither French nor her three siblings could be there his first day home. French remembered seeing a flier for Parents in a Pinch, found the information she needed on the Vanderbilt website, and made the call.
"One of the big things is feeling guilty," French said. "My dad just got out of rehab, and I'm saying, 'Sorry, Dad, we can't be there.'
"Talking with Parents in a Pinch and then with the caregiver assigned to my dad really put my mind at ease," French said. "They asked me about my father's situation – not just questions like how much mobility he had, how well he could see and hear and all the clinical stuff, but also about his mood and personality."
The ease of the process and the extra care and diligence of the provider really made a difference for French.
"[lquote]If it had been difficult or a struggle to get people to call me back, or if they hadn't been friendly, my whole perspective would have been very different. It would have increased that feeling of guilt. But they took a lot of the stress off," she said.[/lquote]
Or as Michael Rosen, assistant professor of pediatrics, would say, "It's one less thing to worry about." When he and his wife discovered that their infant son was too sick to go to daycare, Rosen dialed the Parents in a Pinch number.
"I jumped on putting that number in my phone when I read the announcement about the service," he recalled. "I knew we would use it at some point.
"There's a lot of juggling with two working parents, and our closest family members are four hours away," Rosen said. "In the past if one of the kids had to be home from child care, then we'd have to scramble for a sitter or figure out which one of us would stay home, or we'd split it and one of us would go in to work for the morning and the other for the afternoon.
"I've joked with my wife that if I stay home another day, they're not going to let me keep doing research," he laughed. "This takes away a lot of the stress, and you don't have to sacrifice priorities at work."
For Heather Davidson, a last-minute call for backup care for her 13-month-old daughter minimized the disruption to a hectic workday not just for herself, but for her colleagues as well. Davidson, a Vanderbilt alumna, recently returned to Nashville as director of program development for the new Vanderbilt Program in Interprofessional Learning. The program brings together medical, nursing, pharmacy and master of social work students from Vanderbilt, Belmont, Lipscomb and Tennessee State universities.
"We're coordinating between four different institutions and five different programs, so scheduling is a bear," Davidson said. "It was a relief not to have to cancel the afternoon meetings for the day, because they're so hard to arrange.
"[rquote]Parents in a Pinch was extremely responsive and the caregivers have been background-checked. That helps a lot," she added.[/rquote]
The caregivers not only are thoroughly screened through criminal background checks, social security number verification and the like, they also must have significant experience, excellent references and the warmth, integrity and reliability that are critical for providing care to others.
Adult caregivers may be certified nurse's aides, home health aides or experienced eldercare companions who work through local adult care agencies selected by Parents in a Pinch. Child care providers supplement their child care experience through a special Parents in a Pinch training program covering health, safety, child development and infant and child CPR.
"Parents in a Pinch provides a safety net for Vanderbilt employees and gives them peace of mind about the care of a loved one when they cannot be with them," Neighbors said. That peace of mind frees Vanderbilt's talented faculty and staff to continue the work that makes great teaching, healing and discoveries possible.
"The fact that Vanderbilt has this program is such a comfort," Wallace said. "This shows how much Vanderbilt cares about its employees."
To request care, call Parents in a Pinch at (800) 688-4697. For more information, visit http://childandfamilycenter.vanderbilt.edu/services.