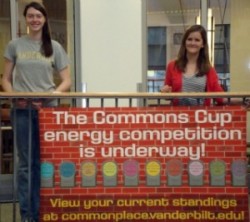 Two members of the School for Science and Math at Vanderbilt, Catherine Caffey and Emily Alsentzer, finished third out of 24 finalists in the Siemens We Can Change The World Challenge, a national sustainability challenge. They will each receive a $5,000 scholarship and the School for Science and Math at Vanderbilt will receive a $500 grant.
Alsentzer, a student at Hume-Fogg Academic Magnet High School, and Caffey, a student at Martin Luther King Academic Magnet High School, are both enrolled at the School for Science and Math at Vanderbilt, a program offered to Metro Nashville Public School students that centers on an interdisciplinary science curriculum. One day a week for all four years of high school, Alsentzer and Caffey attend SSMV. According to Alsentzer, the SSMV curriculum stresses a critical approach to identifying and solving problems, skills they used to initiate the energy conservation competition.
For their project entry, Caffey and Alsentzer introduced an energy conservation component to the competition among the freshman residential houses at Vanderbilt University to examine whether a non-monetary reward (winning the "Commons Cup") would be effective in changing student behavior affecting the environment. Through the competition, the freshman student body saved Vanderbilt approximately $10,000 in five months by reducing their energy usage by 3.5 percent compared to the previous year, thus validating the use of a non-monetary award.
"[rquote]We're hoping that if the students develop good energy conservation habits as freshmen, they will continue them throughout their lives at Vanderbilt and beyond[/rquote]," said Alsentzer. "It would be interesting to see how many students retain such habits as upperclassmen when they are not being incentivized to conserve energy."
"We were delighted how much response we got to the competition," said Caffey.
The School for Science and Math at Vanderbilt is supported in part by a National Institutes of Health NCRR Science Education Partnership Award, by Vanderbilt University Medical Center and by the Nashville Alliance for Public Education. The Vanderbilt Sustainability and Environmental Management Office and Students Promoting Environmental Awareness and Responsibility (SPEAR), a student organization at Vanderbilt, both helped support and mentor Alsentzer and Caffey during the project.
The Siemens We Can Change the World Challenge is a premier national sustainability challenge that empowers students in grades K-12to develop and share environmental solutions that can help change the world. The challenge is a collaborative effort of the Siemens Foundation, Discovery Education, the College Board and the National Science Teachers Association (NSTA) to educate, empower and engage elementary, middle and high school students and teachers to become "Agents of Change" in improving their schools, communities and world.
This year's Challenge includes a first-ever high school division, in which more than 1,200 students competed. Projects addressed a wide variety of topics, ranging from decreasing cafeteria waste to creating programs to clean up polluted community lakes and rivers. High school entrants were specifically challenged with identifying an energy-related issue that has local, national and global implications, and then creating a sustainable solution that can be replicated around the globe.
The Siemens Foundation provides more than $7 million annually in support of educational initiatives in the areas of science, technology, engineering and mathematics (STEM) in the United States. The foundation's mission is based on the culture of innovation, research and educational support that is the hallmark of Siemens' U.S. companies and its parent company, Siemens AG.
Discovery Communications (DISCA, DISCB, DISCK) revolutionized television with Discovery Channel and is now transforming classrooms through Discovery Education. Discovery Education combines scientifically proven, standards-based digital media and a dynamic user community in order to empower teachers to improve student achievement.