Free makeover class for cancer patients
May. 19, 2011, 10:42 AM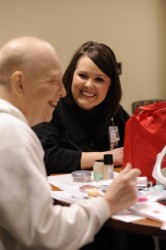 The Vanderbilt Breast Center invites cancer patients to a free counseling session designed to help women cope with the hair loss and skin changes caused by cancer treatment.
The seminar will be held Wednesday, May 25, from 10 a.m. to 1 p.m. at Vanderbilt Health One Hundred Oaks, 719 Thompson Lane.
Any patient who is undergoing chemotherapy is invited, no matter what type of cancer they have or where they are receiving treatment.
During the class sponsored by the American Cancer Society, participants learn how to draw their own eyebrows and apply makeup to give an impression of eyelashes. They receive tips on dealing with skin problems caused by radiation and chemotherapy. They also learn how to cope with thinning or missing hair using inexpensive, easy-to-manage head gear. Each woman is given a free supply of brand-name cosmetics and other products worth hundreds of dollars.
In addition to the makeover tips, participants will be treated to a light lunch.
Seating is limited. For more information and to sign up, call (615)322-7563 or contact heather.r.lagore@vanderbilt.edu.
Contact: Heather Satterfield, (615)322-7563