Media Inquiries
Latest Stories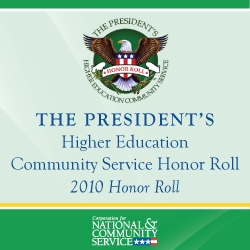 The Corporation for National and Community Service has recognized Vanderbilt University for its support of volunteering, service learning and civic engagement by naming the university to the 2010 President's Higher Education Community Service Honor Roll.
Vanderbilt engages its students, faculty and staff in the local and global communities in a number of ways from providing tutoring to children in the neighboring Edgehill community to service learning projects in Uganda, Tanzania, Ecuador and Sri Lanka.
Students at Vanderbilt founded Alternative Spring Break in the 1980s and today it is the largest student-run organization on campus with more than 400 students traveling each year to locations throughout the United States and around the world to participate in community service projects.
"Our goal is to foster lifelong civic involvement among our students. Their work in the classroom helps them become even brighter students, but we encourage them to take what they learn a step further to explore how they can apply that knowledge to promote social justice and public awareness as active citizens serving the community," said Mark Dalhouse, director of Vanderbilt's Office of Active Citizenship and Service.
Other Tennessee universities making the list include Carson-Newman College, Cleveland State Community College, East Tennessee State University, Free Will Baptist Bible College, Lee University, Maryville College, Southwest Tennessee Community College, Tennessee State University, Tennessee Technological University, Union University, University of Memphis and University of Tennessee, Martin.
The Corporation for National and Community Service, which has administered the Honor Roll since 2006, admitted a total of 641 colleges and universities for their impact on issues from literacy and neighborhood revitalization to supporting at-risk youth. Of that total, 511 were named to the Honor Roll, 114 received the recognition of Honor Roll with distinction, 11 were identified as finalists and six received the Presidential Award.
"As the class of 2011 crosses the stage to pick up their diplomas, more and more will be going into world with a commitment to public service and the knowledge that they can make a difference in their community and their own lives through service to others, thanks to the leadership of these institutions," said Patrick A. Corvington, chief executive officer of CNCS. "Congratulations to Vanderbilt and its students for their dedication to service and commitment to improving their local communities.  We salute all the Honor Roll awardees for embracing their civic mission and providing opportunities for their students to tackle tough national challenges through service."