Media Inquiries
Latest Stories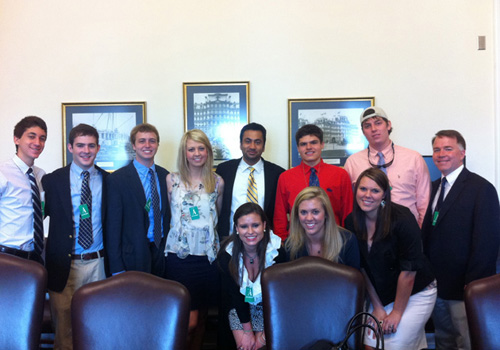 Vanderbilt students talked over issues ranging from investing in clean energy sources to the current impasse over spending in Washington during a visit with the Office of Public Engagement at the White House.
The class, "Civic Activism, Leadership and Citizenship in Recent American History," met May 16 with actor Kalpen Modi (Harold and Kumar go to White Castle), who put his acting career on hold to take a position as associate director at the Office of Public Engagement.
The discussion was part of the Roundtable Initiative, launched this spring by the Office of Public Engagement in order to hear and document the concerns, aspirations and civic engagement activities of college students.
Modi took notes as the Vanderbilt students voiced uncertainty about the aftermath of Osama bin Laden's death and its implications for U.S. foreign policy as well as questions about the administration's policies toward other areas of conflict such as Darfur and Northern Uganda. Modi asked about the level of civic engagement on the Vanderbilt campus, which sparked a discussion about service groups and outreach efforts among Vanderbilt students.
Modi offered to connect Vanderbilt service groups with administration officials working in those areas of concern.
Rising sophomores Jessica Brunelle and Jessie Lambing praised the White House's effort to reach out to college students, saying that they were "encouraged to see an outreach effort from the White House."
The course is a collaborative effort between the Department of History, the Office of Active Citizenship and Service, and the Vanderbilt Office of Federal Relations to offer a credit-bearing seminar course that examines political leadership and citizen service within the context of recent American history and current events in American life.
contact: Mark Dalhouse, mark.t.dalhouse@Vanderbilt.Edu