Bluebird on the Mountain series launches eighth season May 21
by
Chris Skinker
May. 17, 2011, 1:32 PM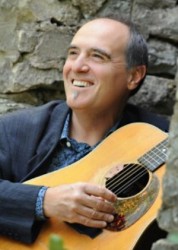 Historic Dyer Observatory will again host the Bluebird on the Mountain concert series this summer beginning with a Saturday, May 21, performance by Dana Cooper, Kim Carnes and Greg Barnhill. The concert begins at 8 p.m. and gates will open at 6.
The 2011 series – which includes six concerts – runs from May 21 to Oct. 8 and will showcase more than a dozen of Music City's most popular singer-songwriters.
Season tickets are available through Ticketmaster and a limited number of advance tickets for single shows are also available through the ticket outlet, which will add a handling fee. Single show tickets are $95 for a carload. No individual tickets will be available for the series. In the event of severe weather activity, check the Dyer Observatory calendar for updates the day of the concert.
The Bluebird on the Mountain series was started by Amy Kurland, founder of the Bluebird Café. Now a part of the Nashville Songwriters Association International, the popular Nashville night spot continues to spotlight a veritable who's who of songwriters and singers including John Prine, Keith Urban and Jewel.
Additional show dates for this season's series are scheduled for June 18, July 16, Aug. 20, Sept. 24 and Oct. 8. Gates will open at 6 p.m. for the 8 p.m. shows. The Oct. 8 show, however, has a 7 p.m. start time with gates opening at 5:30 p.m.
Plying his trade on the club circuit in Kansas City as a teenager, Cooper gave up a college art scholarship to pursue a career in music. Teaming up with Shake Russell in the late 1970s, the duo recorded a series of folk-rock albums, establishing a large following throughout Texas and the Southwest. Cooper's songs have been recorded by the likes of Maura O'Connell, Jonell Mosser and Jen Cohen. Cooper has also established himself as a recording artist, releasing a series of well-received solo albums that include Harry Truman Built a Road (2002), Made of Mud (2005) and The Conjurer (2010).
In 1981, Carnes released the album Mistaken Identity that included what would become her signature song, "Bette Davis Eyes." The song topped the Billboard chart for nine weeks and earned a Grammy for Record of the Year and Song of the Year. In 2009, she released her latest album, Chasin' Wild Trains.
Since moving to Nashville in1994, Carnes has penned three No. 1 country hits including "The Heart Won't Lie," a duet for Vince Gill and Reba McEntire, "Make No Mistake She's Mine" recorded by Kenny Rogers and Ronnie Milsap and "Don't Fall in Love with a Dreamer," which Carnes recorded with Rogers. Carnes will be accompanied by multi-instrumentalists and vocalists Billy Panda and Tim Lauer.
A native of Louisiana, Barnhill, has written songs for some of Nashville's most discriminating talents such as Tim McGraw, Etta James, Vince Gill and Martina McBride. In the early 1990s, Trisha Yearwood and Don Henley recorded "Walkaway Joe," which was nominated for a Grammy.
A multi-talented artist, Barnhill has also written, recorded and produced a host of television theme songs including those for "Murphy Brown," "The Today Show," "The View" and "Murder, She Wrote."
Other artists comfirned to appear during this year's series include Bluebird Café favorites Jon Randall, Al Anderson, Leslie Satcher and Dave Berg.
Visitors are encouraged to bring a blanket, lawn chairs and pack a picnic basket. After the show, visitors can linger to stargaze using the observatory's Seyfert telescope. No RV's or buses will be admitted.
Dyer Observatory is located at 1000 Oman Drive, off Granny White Pike between Old Hickory Boulevard and Otter Creek Road, near Radnor Lake.
Built in 1953, Dyer Observatory was placed on the National Register of Historic Places in 2009. The property consists of the observatory, 1953 house and garage and 2006 Star Chamber. The observatory serves as a community resource for the teaching of science as well as a venue for public, private and corporate events.
Directions to Dyer Observatory.