---
Read a transcript of Maathai's talk.
A Vanderbilt University graduate is a "potential great change agent," Nobel Peace Prize-winner Wangari Maathai told seniors the day before their Commencement ceremony.
"You are ready," Maathai exhorted students in Memorial Gymnasium. "Go forth then, the world is waiting."
Maathai spoke May 12 as part of Vanderbilt's Senior Day activities. She received Vanderbilt's Nichols-Chancellor's Medal given by Vanderbilt "to those persons who define the 21st century and exemplify the best qualities of the human spirit."
The award is supported by an endowed fund created by Edward C. and Janice Nichols of Nashville.
Chancellor Nicholas S. Zeppos lauded Maathai's "selfless dedication to vulnerable people in vulnerable places," adding that it matched Vanderbilt's mission.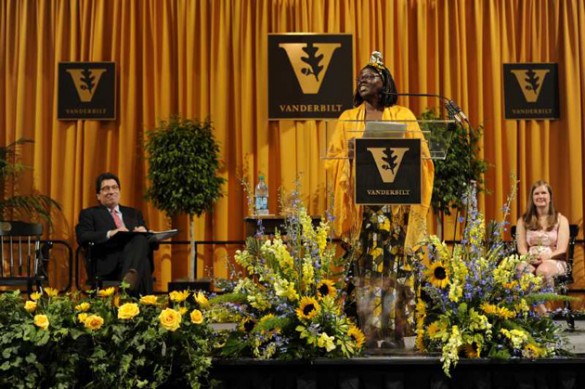 Maathai is the founder of the Green Belt Movement, which focuses on women's groups planting trees to conserve the environment and empower themselves by improving their quality of life. More than 39 million trees have been planted across Kenya as a result.
In 2004, Maathai became the first African woman to receive the Nobel Peace Prize for "her contribution to sustainable development, democracy and peace." She is the first women in East and Central Africa to earn a doctoral degree, has served in the Kenyan Parliament and is now assistant minister for environment and natural resources.
Maathai shared an anecdote from the New Testament about the disciples Peter and John encountering a beggar. Instead of giving him money, Peter ordered him to stand up.
"He was no longer a beggar, no longer dehumanized," Maathai said. "Now he could go and take care of himself with dignity and self-respect."
Maathai said the Green Belt movement serves a similar purpose: preparing people to be ready when the opportunity for self-improvement comes along.
"Your years at Vanderbilt have prepared you to be perfect Peters and Johns," she said. "You are in a position to be a great blessing to those who will present themselves before you. … Vanderbilt has made you. You are a potential great change agent."
Senior Day continued with faculty seminars for students and their guests on subjects including solar energy, brain development, Gregorian chant and anthropology.
Chancellor Zeppos will deliver the traditional Commencement address on May 13 on Alumni Lawn, or Memorial Gymnasium if the weather is inclement. The 9 a.m. ceremony will be broadcast at the Vanderbilt homepage.