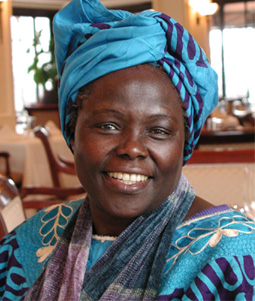 Wangari Maathai, the 2004 recipient of the Nobel Peace Prize and founder of the environmentally conscious Green Belt Movement, will receive Vanderbilt University's prestigious Nichols-Chancellor's Medal Thursday, May 12, when she will address graduating seniors and their families during Senior Day.
Senior Day will be held at 10 a.m. in Memorial Gym and precedes Vanderbilt's Commencement ceremony Friday, May 13. The Nichols-Chancellor's Medal, which includes a cash prize, is one of the university's highest honors and is given to individuals who define the 21st century and exemplify the best qualities of the human spirit. It was created and endowed by Vanderbilt Law School graduate Ed Nichols and his wife, Janice, in honor of Edward Carmack and Lucile Hamby Nichols.
Credentials: Media interested in attending should contact Princine Lewis at 615-322-NEWS. Media attending should be prepared to show valid media identification/press passes.
Broadcast/Photography Media: A riser for broadcast media and print photographers will be located stage left about 70 to 75 feet from the stage. An audio mult box will be located at the riser.
Parking: Television – Television trucks may park in the Student Life Center's driveway as long as they do not block traffic. The Student Life Center is located at 310 25th Ave. S. – across from Memorial Gym. If not in a marked vehicle, please be prepared to show valid identification/press passes. Print/Radio Media – Print and radio media may park in Kensington or 25th Avenue garages. Enter the 25th Avenue garage from the Highland Avenue entrance. Note: There will be increased traffic in the area. Please plan accordingly.
[campusmap]