Contemporary poster art display opens May 26
by
Missy Pankake
May. 9, 2011, 1:42 PM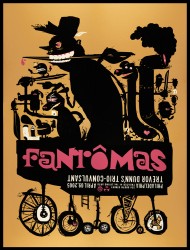 The Vanderbilt University Fine Arts Gallery is pleased to Fit to Print: Contemporary Poster Art from the Vanderbilt University Fine Arts Gallery Collection. The exhibition will open on Thursday, May 26, 2011.
What do REM, the Del McCoury Band, Gladys Knight, Southern Culture on the Skids, Bill Monroe, the Moline Illinois Tractor and Plow Company Auction, Wilco and The Bluebird Café all have in common? Each received truly innovative, and in some cases extreme, design treatments by local, regional, and international graphic artists and illustrators.
Fit to Print, one of the largest surveys of poster art held in Nashville in recent years, includes a number of brilliantly creative letterpress posters produced by Hatch Show Print, one of the oldest working letterpress print shops in America; several examples of poster art by Bryce McCloud and his Isle of Printing print shop; fun and arresting examples of poster art by JW and Melissa Buchanan, the husband and wife team who design under the name The Little Friends of Printmaking; and a diverse group of posters by members of ADGFAD: the Graphic Designers, Art Directors, and Illustrators Association of Spain, among many others.
The Fine Arts Gallery is located in Cohen Memorial Hall, 1220 21st Avenue South, on the western edge of the Peabody College campus. All events are free and open to the public. Fit to Print will remain on view through Aug. 13.
Summer Gallery hours, beginning May 26, are Tuesday-Friday, from 12 to 4 p.m.; Thursday until 8 p.m.; Saturday from 1-5 p.m.; closed Sunday and Monday.
For more information, please visit the gallery's website or call 615-322-0605.
Electronic images of work from this exhibition are available upon request.