Vanderbilt University is set to begin construction of the next phase of its residential college system – College Halls at Vanderbilt. The Commons, the first phase of College Halls, was opened in 2008 and brings together all first-year students who live in 10 houses, each guided by a faculty head of house, a member of the university faculty and mentor who lives among the students in a faculty apartment.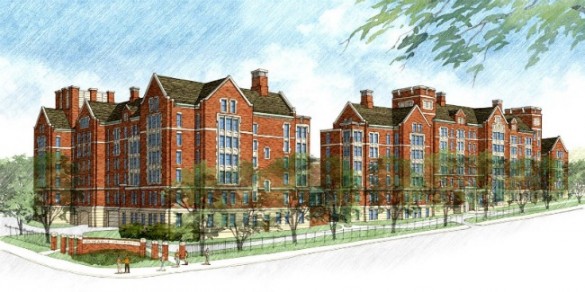 The university will break ground in May 2012 on Kissam College Halls, two colleges that will each house about 330 upperclass students–a mixture of sophomores, juniors and seniors–and be led by faculty directors in residence. Each college will also be divided into two halls led by a graduate fellow. The six existing Kissam Quadrangle buildings, located near the intersection of West End Avenue and 21st Avenue South, will be demolished to make way for the two colleges that will be connected by a shared facility providing gathering space, "grab-and-go" dining options, a classroom, offices and meeting rooms.
The $115 million project, a top initiative of Chancellor Nicholas S. Zeppos, is expected to be complete in fall 2014. Funding for the project will be provided entirely through philanthropy and internal resources.