Looking Back
by
Kara Furlong
May. 5, 2011, 6:00 AM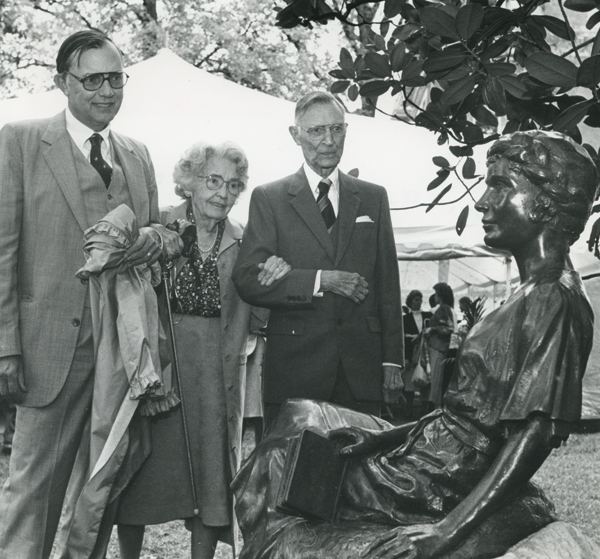 The mature magnolia trees that line campus along West End Avenue and 21st Avenue South are the living legacy of Margaret Branscomb, the wife of Vanderbilt's fourth chancellor. During the post-World War II years of Chancellor Harvie Branscomb's tenure, the university saw tremendous growth – 17 buildings in as many years – yet had little funding to landscape the campus. That cause was taken up by the Vanderbilt Garden Club, an established group of mostly faculty members' wives who collected dues and special contributions for the planting of trees, shrubs and flowers. Margaret Branscomb was an active member of the club and served as its president from 1952 to 1954.
It was her idea in 1954 to create a curtain of magnolia trees between the campus and Nashville's busy streets. "I thought of the noise and dust a thick row of magnolias would lessen, to say nothing of the campus being so open to the public view," she wrote to a fellow garden club member years later. She worked closely with Superintendent of Grounds Jack Lynn to purchase young trees as funds would allow and to oversee their planting. In turn, Lynn collaborated with Vanderbilt botany professor Harold Bold to germinate magnolia seeds that Lynn would then nurse from seedling to sapling, often hand watering them until they were large enough to plant.
The project was a labor of love into the 1960s, as magnolias were planted and replanted depending on campus construction. When a number of trees along 21st Avenue South were dug up to make way for Vanderbilt Law School, Branscomb had them transferred to the chancellor's residence, where she personally cared for them for more than a year until they could be replanted on campus.
Margaret Branscomb's tireless efforts on the magnolia project and many others the garden club undertook – as well as her trademark energy, enthusiasm and grace – won her a place in the hearts of all who knew her. In November 1985, a bronze statue of Branscomb as a young woman by Nashville sculptor Alan LeQuire was given to the university by Anne and David K. Wilson. The statue sits beneath a magnolia tree between Kirkland and Benson halls.
Source: The Real Dirt: A History of the Vanderbilt Garden Club for Campus Beautification (compiled and edited by Sharon Hogge)