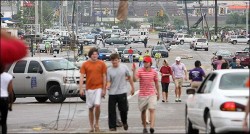 Deadly tornadoes made a devastating sweep through the South on Wednesday, April 29, leveling entire communities and taking at least 279 lives in six states. More than 200 of those deaths were said to be in Alabama, with a reported 800 injuries in Tuscaloosa, home of University of Alabama, alone.
The mayor of Tuscaloosa has requested that the public refrain from traveling to the beleaguered state, directing them to donate to the American Red Cross instead. Although well-meaning, an influx of untrained volunteers adds to safety concerns, and can inadvertently impede the search and rescue efforts.
The Vanderbilt OACS has compiled a list of opportunities for your support and involvement through community agencies both in Nashville and Alabama. The OACS website will be an up-to-date resource for relief efforts.
University of Alabama – Acts of Kindness Fund
The UA Acts of Kindness Fund has been established to support an emergency-assistance program for UA  employees and students. Anyone who is interested in contributing to the UA Acts of Kindness Fund may donate online.  More information on UA's tornado relief efforts may be found at http://www.ua.edu/tornadorelief/.
TIDE Together Concert
Wednesday, May 4, 6:30 p.m. at Red Rooster (21+ only after 9 p.m.)
Concert ($10) and raffle ($2/ticket) proceeds going to United Way of West Nashville
Second Harvest Food Bank of Middle TN
Packing disaster boxes to be sent to Alabama
Contact SHFB to sign up for a packing shift
Hands on Networks
American Red Cross of Middle TN
Volunteers already sent to disaster area
Asking for donations
Red Cross National Disaster Relief Fund
Call 1-800-RED-CROSS or text "REDCROSS" to 90999 to make a $10 donation