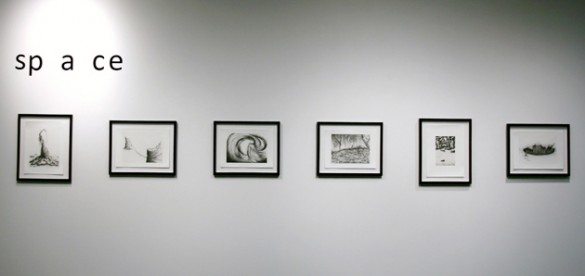 Vanderbilt art students Jean Kang and Will Rigby won awards from the Department of Art worth $25,000 and $10,000, respectively. Their work and that of other students is currently on display at the E. Bronson Ingram Studio Art Center.
Kang, from Columbia, Md., is the winner of the Margaret Stonewall Wooldridge Hamblet award, which will allow her a year of work, research and travel culminating in a solo show at Vanderbilt in one year.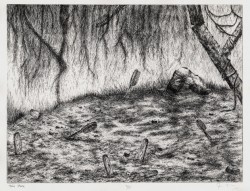 Described as psychological landscapes, Kang's etchings were selected for the award following a juried competition involving exhibition, interviews and written proposals.
Rigby, of Laguna Beach, Calif., won the Merit Award. The work of Kang, Rigby and other senior artists is on display through May 13 at Senior Show 2011 at the Studio Art Center, 9 a.m. to 4 p.m. Monday through Friday and noon to 4 p.m. Saturday and Sunday.
Other students exhibiting include Rachel Bachtel, Elizabeth Bell, Ashley Carter, Melissa Caspary, Michelle Cohen, Kathryn Edwards, Nathan Galvez, Kathryn Ganz, Taylor Hanlon, Candice Jones, Matthew Pagan, Emily Schneider and Patrick Smith.
The E. Bronson Ingram Studio Art Center is at the corner of 25th Avenue South and Garland Avenue on the Vanderbilt campus.
The Department of Art has supervised the awarding of the Margaret Stonewall Wooldridge Hamblet Award since 1984. The award was established by Clement H. Hamblet in honor of his wife, whom he met while she was studying abroad.
Contact: Diane Acree, (615) 343-7241