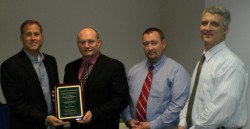 Vanderbilt University has been awarded the 2011 Energy Management Achievement award by the Middle Tennessee Chapter of the Association of Energy Engineers and the Center for Energy
Efficiency at Middle Tennessee State University. The award recognized recent energy efficiency improvements to Rand Hall.  Plant Operations improved the heating and cooling system and upgraded the building automation control system.  Renovations were completed in August 2010.
"We are very pleased to be recognized with this award for improving the energy efficiency of Vanderbilt's campus.  This is only one of many projects that we have been working on over the past few years to reduce utility consumption by the campus", explained Mark Petty, assistant vice chancellor of Plant Operations.
In 2008, Vanderbilt's Department of Administration formed a three-pronged approach to significantly reducing campus utility usage:
1) Make energy efficiency improvements in existing buildings that needed renovation
2) Construct new buildings on campus to use less energy
3) Change and/or influence the way campus occupants use utilities in the buildings.
Reducing utility usage not only reduced Vanderbilt's impact on the environment, it also helped save millions of dollars.
Existing Building Energy Performance Improvements
During the past three years, Plant Operations has enhanced applications of its computerized building control systems and made HVAC and lighting improvements and retrofits in 15 existing buildings on main campus. These improvements have saved more than $1 million in utility costs so far. They also saved 7,300 metric tons of greenhouse gas emissions.
Night setback study
Plant Operations also developed a pilot night-setback study that was implemented two years ago in Buttrick Hall, the Studio Arts Building and Jacobs/Featheringill Hall. This program required no upfront funding or investment because it used existing building control systems. By adjusting the temperature in Buttrick, Studio Arts and Jacobs/Featheringill during non-peak hours using the automated building control system, $190,000 has been saved over the past two years. Implemented on a much larger scale, night setbacks have enormous potential for improved cost savings and reduced environmental impact.
Lighting retrofits
In a recent upgrade to the lighting in Buttrick Hall, the Plant Operations crew replaced 150 50-watt MR-16 halogen light bulbs with 6-watt, light-emitting diode (LED) bulbs. The new LED lights will save 57,000 kilowatt hours per year and avoid producing approximately 34 metric tons of greenhouse gas emissions per year.
In addition to the replacements at Buttrick Hall, Plant Operations has completed a lighting retrofit of the perimeter of the Stevenson Center Math Building, replacing around 70 incandescent bulbs with LED bulbs. They are in the process of doing the same to the perimeter lighting in the Stevenson Science and Engineering Library courtyard and upgrading the pole lights on campus to LED bulbs. The College of Arts and Science is supporting and funding the changeovers.
Just changing the controls to the lights in Memorial Gym has saved 2 million kilowatt-hours and $164,000 in the past two years.
Lighting has also been improved or retrofitted in The Vanderbilt Law School, The Owen Graduate School of Management, The Tennis Center, and The Central Library.
Bathroom fixtures
Since 2007, Plant Operations has also retrofitted 576 bathroom fixtures producing annual savings of $67,000.
The fixtures included low flow and/or no touch faucets; low flow toilets; waterless urinals; and dual-flush toilets.  Each year, these fixture retrofits will result in water savings of approximately 10 million gallons – enough water to cover a football field 30 ft. deep in water (30 acre-feet) or fill 333,000 bathtubs.
LEED Certification/Energy Efficiency in New Buildings
Since 2008, 10 new buildings or large renovations on main campus have been certified as energy efficient under the Leadership in Energy and Environmental Design (LEED) program of the U.S. Green Building Council.
The following buildings are LEED-certified on VU main campus:
Gold: The Commons Center, Stambaugh House, Hank Ingram House, Murray House
Silver: Crawford House, Sutherland House, Gillette House, Benson Hall, Library Archives
Basic: Chef James Bistro in Rand
The LEED program gives building owners and operators the tools they need to have an immediate and measurable impact on sustainability. The impact affects five key areas of human and environmental health:
Sustainable site development
Water savings
Energy efficiency
Materials selection
Quality of the indoor environment
Changing Energy Use Behavior
The Sustainability and Environmental Management Office (SEMO) implemented the ThinkOne energy conservation program that encourages and teaches staff, faculty and students how to conserve energy by changing their behaviors. Research indicates that universities can conserve up 10-15 percent of their utility demand through aggressive educational and behavioral change programs, at very little cost to the university. Thus, SEMO has partnered over the years with a wide variety of departments and groups to design and promote behavioral improvements in the energy use of faculty, staff and students.
Study on Energy Conservation Interventions
In 2008, SEMO partnered with the Psychology department and Peabody College in an IRB-approved study to test the effectiveness of energy conservation interventions (feedback, peer education) on staff and faculty in 24 academic buildings on main campus. This year-long project produced 3-9% annual electricity savings for the buildings in the study, and results were published in 2009 as a doctoral dissertation. During the study, SEMO developed the ThinkOne energy conservation website to educate VU faculty, staff and students on actions they can take to reduce energy consumption while on campus.
Eco-Dores Peer Education Program
In 2009, SEMO worked closely with Dean of Students office and Vanderbilt Student Government to develop a peer education program for residential students, termed "Eco-Dores."  34 undergraduate students volunteer each year to act as peer environmental educators for each residence hall on campus, and SEMO supports these volunteers by providing high quality energy conservation education and support in developing outreach activities.
Energy Conservation Included in Commons Cup Competition
In 2010, the Dean of the Commons office chose to include energy conservation as one of five criteria measured during the Commons Cup competition. This year-long project resulted in ~100,000 kwh and $10,000 savings in the 10 Commons Houses and was submitted by School for Science and Math at Vanderbilt (SSMV) students in the Siemens Corp.'s "We Can Change the World" competition. More info can be found at http://www.vanderbilt.edu/sustainvu/2011/02/high-school-students-partner-with-vu-students-to-promote-energy-conservation-on-commons-campus .
In academic year 2011/2012, plans include expansion of the ThinkOne behavioral change project into VU's laboratory and research areas as well as partnership in the upcoming academic "Year of Sustainability".
What you can do
SustainVU is Vanderbilt's home for sustainability and environmental efforts, and ThinkOne is its campaign to reduce energy consumption. ThinkOne encourages employees to think of one thing they can do every day to conserve energy.
The ThinkOne website has tips for offices and classrooms, patient care areas and research areas. Examples include turning off lights and electronics when not in use, closing chemical fume hood sashes when not in use, and taking the stairs instead of the elevator.
For more information, contact SustainVU or visit www.vanderbilt.edu/sustainvu .