Media Inquiries
Latest Stories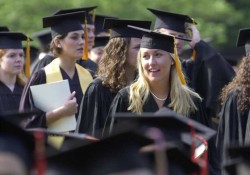 Vanderbilt University's class of 2011 will be advised and inspired by Chancellor Nicholas S. Zeppos and Nobel Peace Prize recipient Wangari Maathai during Commencement and Senior Day activities May 12-13.
Celebrations for the latest class of graduates will include educational seminars led by faculty, a dance featuring live Latin funk music and a strawberries and champagne reception.
"It's an ongoing process to make the event the absolute best experience it can be for our graduates and their families," said Matthew Redd, director of Commencement.
Changes this year include 1,000 indoor seats. Air-conditioned venues including Sarratt Cinema, the Memorial Gymnasium practice gym and Rand Dining Center will be available in addition to the traditional outdoor seating on Alumni Lawn, which will be expanded.
About 2,843 graduates are expected to attend Commencement. Degrees are scheduled to be awarded to 1,734 undergraduate and 1,904 graduate students.
Ceremonies during both Senior Day and Commencement will be streamed live on the Vanderbilt homepage (www.vanderbilt.edu/) and available to watch after the events.
The festivities kick off 9 p.m. to midnight Wednesday, May 11, with THE PARTY, a dance at The Commons this year featuring Grupo Fantasma and Vanderbilt's own Soul Incision. Tickets are $20 will be sold at the event as long as they last.
Senior Day is Thursday, May 12.  The day begins 10 a.m. at Memorial Gymnasium with words from Wangari Maathai. Maathai is internationally recognized for her persistent struggle for democracy, human rights and environmental conservation in Kenya, where she is a member of Parliament. Her books include Replenishing the Earth, The Challenge of Africa and the memoir Unbowed.
Maathai, founder of the Green Belt Movement, which focuses on the planting of trees by women, won the Nobel Peace Prize in 2004. She will receive Vanderbilt's Nichols-Chancellor's Medal given by Vanderbilt "to those persons who define the 21st century and exemplify the best qualities of the human spirit." The award is supported by an endowed fund created by Edward C. and Janice Nichols of Nashville.
Four Vanderbilt faculty members will give afternoon Senior Day talks on subjects including solar energy, brain development, Gregorian chant and anthropology. For a full schedule of faculty seminars go to www.vanderbilt.edu/commencement/week/faculty-seminars/.
Commencement is Friday, May 13. The main ceremony is 9 a.m. on Alumni Lawn, featuring the annual address to graduates from Chancellor Zeppos. After he speaks, there will be a brief intermission at about 10:15 a.m. so graduate and professional school graduates can make their way to separate ceremonies around campus. Undergraduates will stay at Alumni Lawn to receive their degrees.
The tradition of the Strawberries and Champagne reception continues from noon to 1:30 p.m. at Bishops Common.
Once again, twitter followers are invited to follow the thoughts of Commencement participants during the ceremony at www.vanderbilt.edu/commencement/twitter. Everyone participating in Commencement is encouraged to contribute tweets during the event by adding #VU2011 to the end of their tweets so they are routed to the official site.
To sign up for a text messaging service for Commencement-related updates, go to www.vanderbilt.edu/commencement/text-message.
For more information about Commencment, go to www.vanderbilt.edu/commencement/.