Media Inquiries
Latest Stories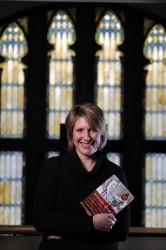 Our next Master of Liberal Arts and SciencePre-View Open House is scheduled for Tuesday, May 17, at 6 p.m. in Wilson Hall.  All three MLAS faculty for this summer will present background on their courses.
MLAS 260 70: "Found & Fabricated: Sculpture" with Professor Michael Aurbach
MLAS 260 90:  "Socrates & Plato" with Professor Robert Talisse
MLAS  260 91: "Early Medicine & Culture: From Aristotle to the Enlightenment" with Professor Holly Tucker
In addition, we will provide details on the Capstone Workshop/Seminar that will be offered this fall.   MLAS students who are eight or nine courses into the program after this summer should take that course this fall. Professor Hodges will once again be the faculty mentor for that course. It is safe to assume that students should have a clear idea of their topics/projects well in advance of the start of the fall semester. The goal therefore is that those who intend to take the Capstone attend the Pre-View so that that they can use the summer to map a plan for the fall.
Contact: Martin Rapisarda,   615/343-3140