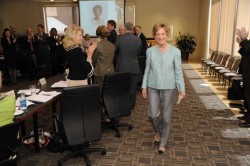 The Vanderbilt Board of Trust has named the university's living-learning community for first-year students for Martha R. Ingram, who will step down as chairman of the board to become an emerita member beginning in summer 2011.
The Commons will now be known as The Martha Rivers Ingram Commons at Vanderbilt University and a sculpture of Ingram has been commissioned that will be placed there.
The board surprised Ingram, who has served as chairman for the past 12 years, with a resolution proposing the renaming of The Commons at her last meeting as chairman on Friday, April 29. The resolution was unanimously approved.
"I'm really quite stunned," said Ingram when Chancellor Nicholas S. Zeppos also presented her with a gold and diamond brooch in the shape of a magnolia – another gift recognizing her leadership and service to the board and to Vanderbilt.
"It has been a privilege to serve as chairman and a life-altering experience that I have treasured," she said.
The board also voted to begin construction of the next phase of College Halls at Vanderbilt. The Commons, the first phase of College Halls, was opened in 2008 and brings together all first-year students who live in 10 houses, each guided by a faculty head of house, who is a member of the university faculty and a mentor who lives among the students in a faculty apartment.
Ingram has been a strong supporter of the university's move to build the College Halls. In a 2005 news release announcing the university's plans to move forward with College Halls, Ingram said, "The College Halls initiative is so important for Vanderbilt. Creating The Commons, which will be a cohesive, nurturing, challenging community for the talented women and men who come to Vanderbilt, has to be our highest priority."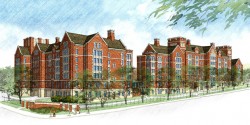 The university will break ground in May 2012 on Kissam College Halls, two colleges that will each house about 330 upperclass students and be led by faculty directors in residence. Each college will also be divided into two halls led by a graduate fellow. The six existing Kissam Quadrangle buildings, located near the intersection of West End Avenue and 21st Avenue South, will be demolished to make way for the two colleges that will be connected by a shared facility providing gathering space, "grab-and-go" dining options, a classroom, offices and meeting rooms.
The $115 million project, a top initiative of Zeppos, is expected to be complete in fall 2014. Funding for the project will be provided entirely through philanthropy and internal resources.
In addition to Ingram, other board members moving to emeritus status were Cecil D. Conlee and J. Lawrence Wilson.
Elected to the board was Leslie Labruto, a member of the Class of 2011. A civil engineering major from Spring Lake, N.J., Labruto was nominated as the 2011 Young Alumni Trustee by the Vanderbilt Alumni Association after winning an online vote by students in the classes of 2010 through 2012.
As president of Students Promoting Environmental Awareness and Recycling or SPEAR, Labruto led an initiative in partnership with Vanderbilt Student Government to secure Vanderbilt's $75,000 Green Fund for sustainable student initiatives on campus. She also helped create Vanderbilt's first Humanitarian Senior Design Project, which aims to bring renewable energy to a community in Guatemala.
A number of committee meetings were held April 28. During the Academic Programs Committee, Dean of Students Mark Bandas and members of his staff provided an update on mental health services available to students. The group outlined a three-pronged approach of prevention through mental health programs, intervention through crisis response efforts coordinated with students, faculty and staff, and post-crisis care and follow-up.
"Timely intervention and support is important to our students being able to be good citizens of Vanderbilt," said Francille Bergquist, an associate dean in the College of Arts and Science who serves as one of the liaisons between the academic offices and the Office of the Dean of Students on mental health and other student issues.
During the 2009-2010 school year, 14 percent of Vanderbilt students visited the university's Psychological and Counseling Center that offers therapy and counseling for academic, career and study/testing issues.
"Outstanding ability does not make people immune from stress," John Greene, associate dean for health and wellness, said.
The committee also learned that campus mental health services are being centralized this summer at a new campus mental health center on Terrace Place at the former Institute for Software Integrated Systems (ISIS) location.
New Head Football Coach James Franklin was introduced to the Athletics Committee, and members of the committee also recognized the women's bowling team, which finished second in the NCAA championship earlier this month.