Applications being accepted for Dissertation Writers' Retreat
Apr. 25, 2011, 1:25 PM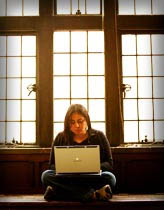 Ph.D. students often use their summers to make significant headway on their dissertations. This June, the Writing Studio will facilitate that progress for 15 dissertation writers by providing a structured environment for five days of writing and revision. Setting aside this time to focus intensely on the dissertation can help either to kick start or to re-start a productive summer's work.
Days will include significant individual writing time, one-to-one consultation with trained writing consultants, brief goal-setting sessions, and the option to attend afternoon mini-workshops to learn and practice relevant writing techniques. Lunch will be provided each day, courtesy of the Graduate School.
The Dissertation Writers' Retreat will be held from June 20-24, from 9 a.m. to 4 p.m. each day.
To apply, please visit: www.vanderbilt.edu/writing, click on the application link, and complete the form by Wednesday, June 1, 2011. You will be prompted to give thoughtful, detailed answers to the following questions:
1. On which portion of your dissertation do you intend to work during the retreat?
2. Describe your specific writing goals for the week: what will you have accomplished by week's end, and how do you intend to distribute that work over the course of four days?
3. What specific challenges do you anticipate facing as you work on this portion of the dissertation?
Those selected to participate will be informed by Friday, June 10.
Sponsored by the Writing Studio, the Office of the Dean of the Graduate School, and the Graduate Development Network