Vanderbilt turns in solid performance in RecycleMania competition
by
Missy Pankake
Apr. 25, 2011, 1:42 PM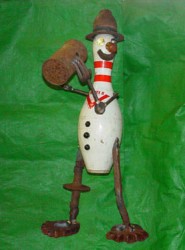 The RecycleMania competition is now over and has official winners for 2011.  RecycleMania is a friendly recycling competition among colleges and universities across the country  sponsored by the U.S. Environmental Protection Agency and Keep America Beautiful.
Together, participating colleges and universities recycled or composted 91 million pounds of material during the 2011 competition.
Award winners were:
Grand Champion Prize: Cal State San Marcos, for the 6th straight year, recycled 79 percent of all their waste.
Per Capita Classic: Union College in Schenectady, New York where more than 55 pounds of recyclables per person were collected during the competition.
Waste Minimization Prize: North Lake College in Irving, Texas, where each person generated an average of only 3.07 pounds of total waste during the competition.
Gorilla Prize: Rutgers University, who recycled a total of 3,057,867 pounds of material.
So how did Vanderbilt do?
In most categories, Vanderbilt ranked in the middle, pulling ahead to 32nd out of 180 schools in the Waste Minimization Category, meaning we don't generate a huge amount of waste per person.  During the competition, Vanderbilt recycled 24.51 percent of all waste generated, and a total of 102,373 pounds of materials.
Lindsay Walker, interim campus recycling coordinator, was pleased with Vanderbilt's rankings, but also sees ways to improve. "Vanderbilt did very well considering the tough competition and that this was our first year competing.  It is inspiring to see how well other schools are recycling because it shows that it is possible to achieve 75 percent and higher recycling rates," Walker said.
This was the first year Vanderbilt competed in RecycleMania and, according to Walker, plans are already underway for 2012. "Next year, we hope to get the word out more widely to encourage more people to get involved in the competition.  We also plan to work with our recycling vendor to improve our tracking methods to get more accurate metrics."
To see a detailed report of RecycleMania results, go to www.recyclemaniacs.org
For more information about Vanderbilt's participation in RecycleMania, or recycling at Vanderbilt year-round, please visit www.vanderbilt.edu/sustainvu or contact recycle@Vanderbilt.edu.