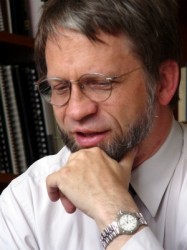 Antanas Mockus, a former mayor of Bogotá who recently ran as the Colombian Green Party presidential candidate, will speak at Vanderbilt University on April 26.
Mockus' talk, "Public Space in Bogotá and Citizenship Culture," will be at 5 p.m. in the Wyatt Center's Rotunda with a reception to follow. Nashville Mayor Karl Dean is scheduled to introduce Mockus.
While on campus, Mockus will meet with faculty and participate in a working group involving Nashvillians who work on urban transportation and planning issues.
Mockus was born in Bogotá and received his bachelor's degree in mathematics from the University of Burgundy in Dijon, France. He then earned a master's in philosophy from Bogotá's Universidad Nacional, where he served as president from 1991 to 1993. Mockus was elected twice mayor of Bogotá. He developed a reputation as a progressive leader who enjoyed carrying out quirky stunts. For example, he was filmed in the shower in a television commercial to encourage people to conserve water. Water usage dropped 14 percent in two months and 40 percent during his entire term.
Another initiative as mayor was hiring 420 mimes to control Bogotá's often dangerous traffic problems. This resulted in traffic fatalities dropping more than 50 percent. When Mockus asked citizens to pay an extra 10 percent in taxes on a voluntary basis, 63,000 did so.
Mockus also has been known to walk the streets dressed in spandex and cape as a superhero and to improvise rap songs.
In 2009 Mockus and two other former Bogotá mayors formed the Colombian Green Party. He won his party's nomination and ran on the slogan "Con educación todo se puede," which translates to "With education, everything is possible."
Mockus' visit to campus is sponsored by Vanderbilt's Center for Latin American Studies. For more information, call Claire Gonzalez at 615-343-1837 or email claire.p.gonzalez@vanderbilt.edu.