Vanderbilt University receives 'A' rating on new report ranking the top 50 national universities on environmental and social transparency
by
Missy Pankake
Apr. 21, 2011, 10:28 AM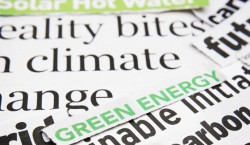 Vanderbilt University received an "A" rating and was one of the top five universities recognized in a recently released analysis of environmental and social sustainability transparency.
Using data collected during the spring of 2010 from university websites and other voluntary reporting initiatives, the Roberts Environmental Center (REC) at Claremont McKenna College analyzed the 50 top national universities. The study examines voluntary environmental and social intent; reporting, and performance by national universities utilizing criteria such as financial transparency, institutional vision, environmental policies and management; community engagement; air emissions reporting; recycling; utilities management; employee safety; green building and green purchasing.
Student researchers working on the report noted that large universities in the United States have "dramatically increased the extent to which they address sustainability, since last scored by the Roberts Center three years ago."
The Sustainability and Environmental Management Office (SEMO) at Vanderbilt has worked hard to communicate Vanderbilt's current environmental performance and management system to not only the Vanderbilt community but also the local and national community as well.
"We have a robust online presence, including our SustainVU website and Facebook page, ThinkOne Energy Conservation  website, Environmental Health and Safety website and our publicly available Greenhouse Gas inventories and Environmental Commitment Statement," said Andrea George, director of SEMO. "This report acknowledges our objectives as well as our results and the extent to which they have been shared with the Vanderbilt community and the broader public."
Vanderbilt performs particularly well in categories that evaluate environmental and social sustainability intent.  University policies and commitments to environmental protection, diversity, environmentally and socially responsible procurement, and employee safety helped propel Vanderbilt to being the No. 1 ranked university in the country in "environmental intent" and "social intent" factors, receiving a perfect score of 100 for social intent.
"Many university websites represent the institution as being responsible when it comes to sustainability, but oftentimes the materials and information on the website do not provide evidence of that, therefore giving them lower scores," conclude the study's researchers.
The report's authors noted that the hope and purpose of this REC University Sector Analysis is that it will encourage universities to improve environmental and social transparency.
Read the full, 85-page report.
Visit the SustainVU website for more information about Vanderbilt's sustainability initiatives.