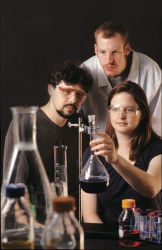 The latest news about discoveries by Vanderbilt researchers is available on the university research news channel, Research News @ Vanderbilt.
The channel publishes a weekly email summarizing that week's stories. Subscribe to Research News @ Vanderbilt.
Launched Feb. 1, 2011, the site features new research in categories including health and medicine, education and psychology, engineering and technology, law, business and politics, life, Earth and space, and society and culture.
For more information, email Research News or call (615) 322-2706.