Academic calendar changes start spring 2012
by
Princine Lewis
Apr. 21, 2011, 1:59 PM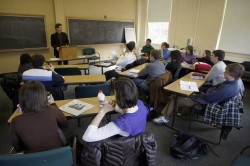 Starting spring 2012, the first day of classes following winter break will begin on Monday, Jan. 9. Beginning spring semester classes earlier than the traditional Wednesday start will give students and faculty the opportunity to commemorate the Martin Luther King Jr. Holiday, while maintaining the integrity of course schedules and program accreditation standards.
The academic calendar committee comprised of administrators, faculty and students, has also approved Monday, Jan. 7, as the start date for spring semester 2013. The committee, though it has only approved the academic calendar through the 2012-2013 school year, anticipates a Monday start for the foreseeable future.
The change also means the last day of classes for the spring semester will end on Monday instead of Tuesday.
This academic year marked the first time the university canceled classes to commemorate MLK Day, which is celebrated the third Monday in January. However, the move critically impacted those classes that met once a week on Mondays, those with Monday lab hours, and the add/drop period for classes.
Some courses must meet a certain number of days to comply with accreditation standards. Also, students in some schools have the first week of classes to add and drop classes without the penalty of a withdrawal being reflected on their academic record. Canceling classes this year on the holiday extended the required week of classes into the penalty phase of the add/drop period. This eliminated the opportunity for students in Monday-only classes to have attended one class before deciding whether to drop the class.
Starting spring semester classes on Monday will give students a full week of classes before the holiday. The add/drop period for spring 2012 will begin on Monday, Jan. 9.  In 2013, the add/drop period will begin Monday, Jan. 7.
The university is open for business on MLK Day, but administrators chose to cancel classes following a student resolution asking that the day be set aside as a day of service to the community. Staff wishing to take the day off must still use a personal day.
To view the full academic calendar, visit http://registrar.vanderbilt.edu/calendar/.