Media Inquiries
Latest Stories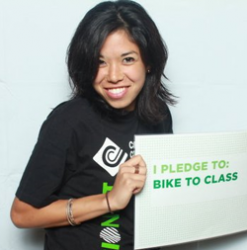 Vanderbilt University sophomore Katie Ullmann has been named a 2011 Udall Scholar in recognition for her past commitment to environmental issues and her demonstrated commitment to a career in the environmental field. Each scholarship provides up to $5,000 for the scholar's junior or senior year.
Ullmann was one of 80 students selected – only 27 of whom were sophomores – out of an extremely talented group of 510 students nominated by 231 colleges and universities across the nation.
"This impressive scholars class represents the best and brightest; they are the future environmental and tribal leaders in this country. The Udall Foundation is thrilled to help them advance their education," said Terrence L. Bracy, chair of the Board of Trustees of the Udall Foundation.
An American Studies major and Ingram Scholar, Ullmann has focused on social movements and their effect on environmental and climate protection policies. She has made significant contributions to Vanderbilt through her work as vice president of Students Promoting Environmental Awareness and Recycling, her leadership in the establishment of the Vanderbilt Green Fund and her coordination of the Cardboard Crew, a group who collected 13.22 tons of cardboard for recycling during move-in day this past fall.
Ullmann has held internships with the Southern Alliance for Clean Energy and the National Environmental Law Center. This summer, she will work with the 350.org/pacific and the Marshall Islands Conservation Society, developing a climate leadership workshop to be presented in both Fiji and the Marshall Islands.
Established by Congress in 1992 to honor Morris K. Udall's 30 years of service in the U.S. House of Representatives and enhanced by congressional action in 2009 to honor Stewart L. Udall's vast public service, the Morris K. Udall and Stewart L. Udall Foundation is dedicated to educating a new generation of Americans to preserve and protect their national heritage through scholarship, fellowship and internship programs focused on environmental and Native American issues.  The Udall Foundation is also committed to promoting the principles and practices of environmental conflict resolution.
Contact: Lyn Fulton-John, (615) 322.6329