Great-grandson of Chancellor Kirkland visits campus
by
Jim Patterson
Apr. 20, 2011, 3:19 PM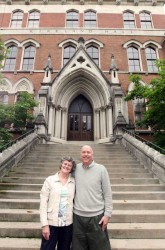 Kirk and Marilyn Meritt of Rochester, N.Y., toured Kirkland Hall April 20 before taking a stroll around campus. It was the first visit to Vanderbilt for Mr. Meritt, whose grandmother Elizabeth Kirkland Meritt was the daughter of James H. Kirkland, chancellor from 1893 to 1937.
The Meritts, hosted by Lyle Lankford, senior university historian and protocol officer, viewed paintings of Chancellor Kirkland and were treated to the story of Vanderbilt's founding.
Kirkland guided the university through its breakup with the Methodist Church in 1914, led the recovery from a devastating fire in 1905 and the relocation of the School of Medicine to the main campus.