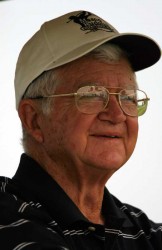 The golfing world lost a legend when Mason Rudolph passed away at the age of 76.
Since 1992, Rudolph has been an integral part of the Vanderbilt golf program. He spent five seasons as the head coach of the men's program before being named the Director of Golf. In 2002, his title was amended to Director of Golf, emeritus, but his impact on the program did not wane.
The Commodores host an annual fall tournament at the Vanderbilt Legends Club known as the Mason Rudolph Championships.
Rudolph died April 18.
"Mason Rudolph was one of the greatest people I have ever been around," said Tom Shaw, head coach of the Vanderbilt men's golf team. "I never saw him without a smile and without a great story to tell. Mason was a true gentleman and extremely humble, always seeking to put others before himself. You became a better person just by spending a few minutes with Mason Rudolph. We will miss him greatly."
"We lost a great man today and a dear friend to everyone in the Vanderbilt Golf family," said Greg Allen, head coach of the Vanderbilt women's golf team. "Mason had a very special way of touching lives and his impact will never be forgotten. We had a chance to have dinner with Mason and Carol last year before the SEC Championship. There is no doubt that his presence and his inspiring golf stories that night helped motivate Marina Alex to win the Championship. Our prayers are with Carol, his sons Mason and Griff, his grandkids and all of those that loved Mason Rudolph."
Edgar Mason Rudolph established himself as an elite golfer at a young age. He qualified for the 1950 U.S. Open at the age of 16 and was the youngest player to compete at the event for many years. Later that same year, Rudolph became the first 16-year-old to win the prestigious USGA National Junior Amateur Championship.
At nearby Clarksville High School, Rudolph won back-to-back TSSAA championships in 1951 and 1952. He would go on to represent a victorious United States side as a member of the 1957 Walker Cup team.
His accomplishments as a junior player did not go unnoticed. In 1999, Rudolph was selected by Golf World magazine as one of the Top 10 Best Junior Boys of the 20th Century.
Rudolph played collegiate golf at the University of Tennessee and Memphis State (now the University of Memphis) before being called into military service.
After serving, Rudolph joined the PGA Tour in 1959 and was named the Rookie of the Year. He won five official PGA Tour events during a 21-year career, playing 15 Masters and 16 U.S. Open Championships. Rudolph also was a six-time winner of the Tennessee State Open (1956, '59, '63, '64, '66 and '72).
In 1971, Rudolph again was selected to represent his country, this time on a Ryder Cup team that included Jack Nicklaus, Arnold Palmer, Lee Trevino and J.C. Snead. Again, Rudolph's American side took the event.
Rudolph was elected as a charter inductee into the Tennessee Golf Hall of Fame in 1990, and was inducted into the Tennessee Sports Hall of Fame in 1995.
Rudolph is survived by his wife, the former Carol Griffin, and two sons, Mason II and Griff. The couple tragically lost son Craig in a 1998 helicopter crash.
Information on memorial arrangements is forthcoming.