Save the Earth, save the air, save $$$ commuting: Find out how at the Clean Air Fair April 21
by
Missy Pankake
Apr. 15, 2011, 1:45 PM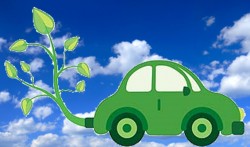 Come celebrate Earth Day with games, prizes and giveaways Thursday, April 21, from 11 a.m. to 2 p.m. in Medical Center Plaza Across from Langford Auditorium* at the first-ever Vanderbilt Clean Air Fair.
This fair is a unique forum for employees and students to learn about alternative transportation and commuter choice programs and products such as the Free Ride to Work Program, regional/inter-city bus service, vanpools, Music City Star Commuter Rail, Zipcars, and more.
Did you know?
This year's Transit Week in Nashville is April 17-23, 2011.  Check out some of the events that will be hosted that week including a downtown home tour, pledge to ride public transportation, lunch at the Farmers' Market, downtown progressive dinner, and more.
According to the Tennessee Department of Transportation, each mile spent in a car emits one pound of pollutants into the air, not to mention more vehicles on the road, and increased traffic**.  Using alternative transportation such as buses, carpooling, biking or walking just one day per week can make a big difference.
A study conducted by VUMC Parking and Transportation Services and Vanderbilt Human Resources revealed that the average one-way commute for Vanderbilt employees is 24 miles.  Approximately 19 percent of Vanderbilt's 2009 greenhouse gas emissions were attributed to staff and faculty commuting.
Vanderbilt provides discounts on a number of alternative transportation programs available to the Vanderbilt community, including the Free Ride to Work program, Music City Star Commuter Rail, and regional/inter-city bus service.
Earth Day, recognized annually on April 22, aims to highlight the importance of and appreciation for the Earth and natural environments.  The city of Nashville will also be hosting its annual Earth Day Celebration at Centennial Park on Saturday, April 23.
See ling for more information about this event or Vanderbilt's sustainability program. Become a fan of SEMO's SustainVU Facebook page, or contact SEMO at 322-9022.
See link for more information about VUMC Parking and Transportation Services. See link for more information about VU Traffic and Parking.
*NOTE: In the event of rain, the Earth Day Clean Air Fair will be moved inside to Langford Lobby.
** Information retrieved from TDOT's Clear the Air Tennessee website .
Sponsored by: Vanderbilt University's Sustainability and Environmental Management Office (SEMO), VUMC Parking and Transportation Services, and VU Traffic and Parking