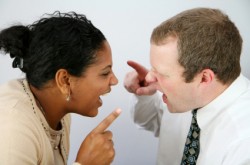 This class considers how we participate in those repetitive conversations which have always turned out to be ineffective.  To break this cycle and create more meaningful interactions with others, we might want to step back from the immediacy of the interaction.
This class presents a method of looking at our assumptions and expectations before we begin an interaction.  It explores ways to reframe both our thinking and our interpretations of the other person's thinking and behavior to give us more emotional flexibility.  The presentation is based in part upon the book, Difficult Conversations, by Stone, Patton and Heen; but it also has material from other resources as well.  Ralph E. Topham, clinical counselor at Work/Life Connections-EAP, to present.
Thursday, April 21
Light Hall, Room 419
Noon-1 p.m.
This class is part of the Life Phase Presentation Series.
Health Plus is part of Faculty and Staff Health and Wellness.