Media Inquiries
Latest Stories
April is Sexual Assault Awareness Month and The Sister Circle Fellowship for Women of the African Diaspora will host "For Her Price is Far above Rubies: Women, Human Trafficking, and the History of Heteropatriarchy in Religious Traditions," a luncheon and discussion on Thursday, April 14, from 11:30 to 1 p.m. at the Bishop Joseph Johnson Black Cultural Center. The event is open to the Vanderbilt community and will include also a documentary film on human trafficking.
Charlotte Pierce Baker, professor of English and director of the Women's and Gender Studies Program, will be on hand for the discussion as well as graduate students Tamara Lewis, a doctoral student in religion, and Sarah Mather, who is pursuing a master's degree at the Divinity School.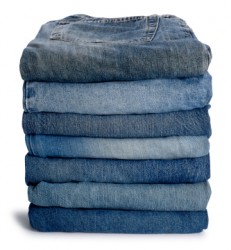 A second event on Wednesday, April 20, marks national Denim Day when wearing jeans is a visible means of protest against misconceptions that surround sexual assault. The Vanderbilt University Police Department has partnered with Lambda Theta Alpha sorority, the Office of Housing and Residential Education and the Black Cultural Center to host a Denim Day fashion show at 6 p.m.  in the front lobby of Branscomb Quadrangle. The show, which will feature student and VUPD models, is open to the public.
Denim Day has its roots in an Italian court case in which a 45-year-old driving instructor was convicted of raping an 18-year-old student during her first driving lesson. The instructor filed an appeal that made its way it to Italy's Supreme Court where it was overturned because according to a statement by the chief judge, "the victim wore very, very tight jeans, she had to help him remove them, and by removing the jeans it was no longer rape, but consensual sex."
Enraged by the verdict, women in Italy's Parliament began to protest by wearing jeans to work. The call to action motivated members of the California State Legislature to do the same. The legislature's actions caused Patricia Giggans, executive director of Peace Over Violence, to plan Los Angeles' first Denim Day in April 1999 and the event has continued every year since.
Contact: Jyl Shaffer – jyl.r.shaffer@vanderbilt.edu