Hank Ingram House hosts Pride Day to integrate individuals with disabilities into the community
Apr. 12, 2011, 8:40 AM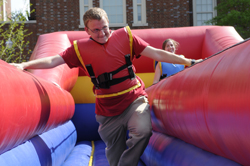 Hank Ingram House, one of the freshman residence halls that makes up The Commons, hosts an annual Field Day event as an end-of-the-year celebration.
This year, the students decided to do something special. They invited Best Buddies from the Best
Buddies Alternative Spring Break to attend the field day, which was renamed Hank Pride Day 2011.  Best Buddies Alternative Spring Break pairs Vanderbilt students with people with disabilities in opportunities to serve the community.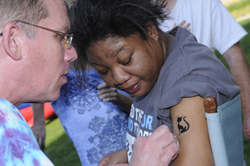 Giant inflatables, music, ice cream, hundreds of faculty and students and warm weather made the event April 10 on The Commons Lawn a lot of fun.