Chancellor urges cautious optimism in light of federal funding issues
by
Jim Patterson
Apr. 7, 2011, 7:05 PM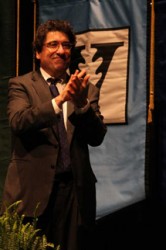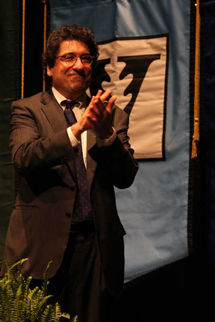 Vanderbilt has dramatically increased its number of endowed faculty chairs and performed well financially through hard economic times, Chancellor Nicholas S. Zeppos announced during his Spring Faculty Assembly address.
"We have and continue to build an outstanding faculty," Zeppos said April 7 in Langford Auditorium. Watch video of the assembly.
Zeppos also said the university's unique "One University" outlook is fast leading to breakthroughs in the use of robotics, the humanities, social sciences, biomedical sciences and traditional medicine to "prevent disease, improve health care outcome and reduce the huge social costs of our inefficient health system."
Zeppos spoke following the presentation of faculty awards and a presentation on charter schools by Ellen Goldring, Patricia and Rodes Hart Chair and professor of education policy and leadership at Vanderbilt Peabody College of education and human development.
"While I am relieved and happy that our continued financial strength allows us to invest significantly in our missions of research, teaching and serving, I am always aware that financial strength alone is never enough," he said. "In our financial prudence and mutual support, and in our academic and research investments, we are truly 'One University.' This is more than a slogan. It is how we best learn and discover with our students and serve humanity."
The Shape the Future fundraising campaign will end June 30, Zeppos said, having resulted in more than 180 new endowed faculty chairs and $300 million in scholarship endowments.
"(Shape the Future) now stands at $1.9 billion, surpassing its original goal of $1.75 billion," Zeppos said. "This success is the foundation for the significant strengthening of our faculty and the increased ability to attract outstanding students that Vanderbilt has seen in the short span of eight years."
The university has also been able to add 73 new endowed faculty chairs in the past year, 13 more than the target set in 2010, Zeppos said. Thirty-three of those chairs have been awarded to faculty and more announcements will be forthcoming, he said.
Additionally, the university has been able to set aside $100 million for graduate education.
Zeppos cautioned that proposed cuts in the federal budget for education are still cause for concern at Vanderbilt despite healthy fundraising and investments.
"Universities may be asked to do our part, and it is hard to argue otherwise if others step up to define this public good," he said. "But dramatic cuts and underinvestment in education, science and innovation produce no long-term relief and surely will hobble our great nation and its future leadership."