Media Inquiries
Latest Stories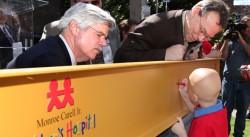 The Monroe Carell Jr. Hospital at Vanderbilt officially launched its $30 million expansion project today with a festive Beam Signing celebration. The event signifies construction is now under way on the hospital's multi-year, multi-phase endeavor to expand physical space and programs.
Friends, donors, patients and Medical Center leadership gathered this morning to add their signatures to a 14-foot, bright yellow beam that will become part of the permanent structure for the hospital's 33-bed, 30,000 square-foot, first-phase addition.
In addition, $20 million in programmatic investments are planned along with this first-phase expansion to the hospital.
"Today's event acknowledges Vanderbilt's unwavering commitment toward improving the lives of our youngest patients and the lives of all children in our region. The launch of this expansion marks an important milestone for the region's only resource for many children with life-threatening diseases," said Jeff Balser, vice chancellor for Health Affairs and dean of the Vanderbilt University School of Medicine. "While growing the hospital's capacity to care for children with all diseases, the new facilities will advance our research, education and treatment programs in childhood cancer, heart disease and prematurity, three growing challenges for children in Tennessee and around the world."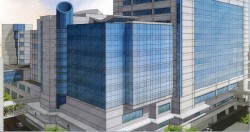 Those in attendance for the Beam Signing viewed a special, pre-taped message from superstar country music group Rascal Flatts, longtime donors and champions for Children's Hospital. The Flatts — Jay DeMarcus, Gary LeVox and Joe Don Rooney — stressed the need for the hospital's expansion to help meet the region's growing demand for pediatric specialty care. Children's Hospital has been operating near capacity since shortly after its opening in February 2004.
"We are proud that Vanderbilt can provide this extraordinary resource, ready to serve the needs of this region's pediatric patients," said C. Wright Pinson, deputy vice chancellor for Health Affairs and CEO of the Vanderbilt Health System. "This expansion will allow us to improve upon our rich legacy as the premier destination for Tennessee's sick and injured children. This effort marks but a first phase of planned facility and program growth to address the needs of our state's children."
Construction will include a five-story addition to the hospital's northwest corner.  Also included in the expansion will be a new third-floor surgical pre-operative and recovery area, as well as added space for pediatric clinics.
"I would like to express my sincere gratitude to all those who are helping make this expansion possible. This growth comes at a critical time and will allow us to continue to provide the very highest quality care, and in an optimal environment, for our patients and families," said Luke Gregory, chief executive officer for Children's Hospital.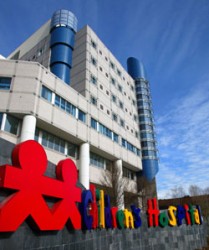 The construction will add 33 additional acute, neonatal intensive care and medical-surgical beds, and will create more space for clinical services with build out of a vacant 20,000-square-foot area on the 10th floor of the Doctors' Office Tower (DOT). The expansion, headed by Balfour Beatty Construction, is expected to be complete within the next 12 months.
"It is truly an exciting day to see the arrival of the construction elevator for DOT 10 and the cranes for the expansion project," said John W. Brock III, the Monroe Carell Jr. Chair and surgeon-in-chief for Children's Hospital. "This construction allows us to go forward in serving our children and their families while alleviating some of the space issues we are having with increased volumes. We are all excited about the future at Children's Hospital."
The new addition will help meet the growing needs of the region's children and also initiates a strategic growth plan for the hospital. The hospital's expansion will also be accompanied by an extra $20 million in investments toward programmatic enhancements focusing on the three childhood diseases most prevalent in Middle Tennessee — childhood cancer, childhood heart disease and prematurity.
"The Monroe Carell Jr. Children's Hospital at Vanderbilt has long provided hope and healing to the children and families of Middle Tennessee and beyond.  Bank of America is proud to help the Monroe Carell Jr. Children's Hospital at Vanderbilt set opportunity in motion through this expansion enabling them to offer additional services to the area's youngest patients," said John Stein, president, Bank of America, Tennessee.
The new five-story facility will increase capacity to accommodate premature babies who are transferred to Children's Hospital from outlying hospitals. The added neonatal, acute care and medical-surgical beds will be adjacent to, and an extension of, the existing building's fourth through eighth floors.
"As a world-leading research university, Vanderbilt has a responsibility to discover new cures for children with life-threatening diseases, while providing the finest possible child-centered care for children throughout the region, " said Jonathan Gitlin, the James C. Overall Professor and chair of Pediatrics. "Expanding our facilities will allow us to identify new and better ways to help children with cancer, heart disease and many other serious conditions."
Also, growth will be seen in multiple programs, including Pediatric Bone Marrow Transplantation, Cardiac Surgical Intensive Care and Congenital Heart Disease. Currently, Children's Hospital is the only hospital in Middle Tennessee to offer these services.