(last updated 2:50 p.m., April 5)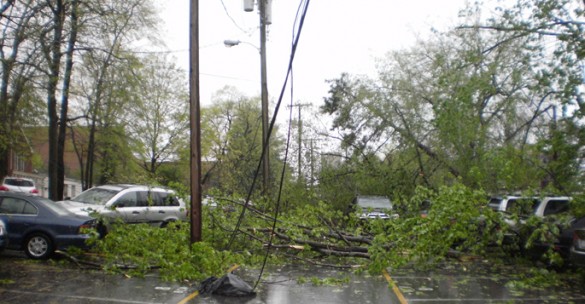 Electricity remains out along Greek Row due to a blown transformer.
Due to the severity of the damage done to a transformer, Vanderbilt will use a temporary generator for the next two to three days to power  the Tarpley, West Side and Greek row region.  The generator is already ordered and it is on its way to campus.  Plant Operations believes the earliest power could be restored is 8:30 p.m. tonight.
All trees have been cleared from the damaged cars, however the tree service contractors are still removing downed trees. University officials are advising students to notify their personal insurance company if their vehicle has been damaged, but no plans should be made to have the cars removed until after the trees and fallen limbs are cleared.
Work has begun on repairing the Lambda Chi and Sigma Nu houses.  A roofing contractor has been secured and is on the way to begin work on Kappa Kappa Gamma house.