Volunteer to be part of one of the biggest events on campus: Commencement
Apr. 5, 2011, 1:59 PM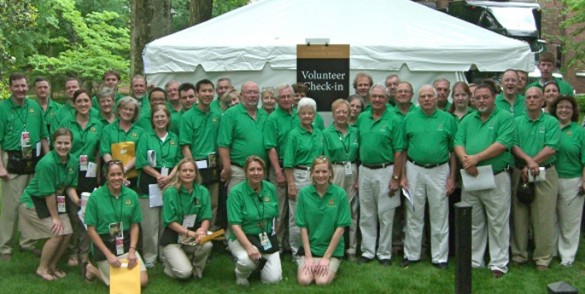 For many of our students, Commencement is one of the most important days of their lives. Be part of the excitement and festivities by volunteering.
Volunteers are an important and indispensable part of what makes Commencement a successful and memorable event each year. We encourage those that have participated in the past to join us again. For newcomers, we invite you to be a part of the most exciting time of the year.
All Vanderbilt employees are encouraged to participate – join as a team or a department.
Volunteers are needed for three events:
The Party
Wednesday, May 11, 9 p.m. to midnight – great for night owls and music fans!
Featuring Grammy award-winner Grupo Fantasma on The Commons Lawn
Volunteer shifts:  8 – 10 p.m. and 10 p.m. to midnight – work one or both
Primary duties: Sell tickets at the door, sell drink tickets
Senior Day
Thursday, May 12, Memorial Gym
Nobel Peace Prize recipient and Green Belt movement founder Wangari Maathai, is our 2011 Nichols-Chancellor's Medal recipient and speaker
Volunteer shift: 8 – 11 a.m.
Primary duties: Pass out programs, direct people to seating
Commencement
Friday, May 13, 9 a.m. to noon, Alumni Lawn
Chancellor Zeppos confers degrees and addresses the members of the graduating Class of 2011
Volunteer shift: 6:30 a.m. to 12:30 p.m. – breakfast provided in hospitality tent and boxed lunch after
Primary duties: Pass out programs and fans, direct people to seating
Click here to sign up to volunteer.
All volunteers should plan on attending a volunteer orientation and lunch on May 3.  Volunteers will also receive an appreciation gift from the staff.
Thank you for your interesting in volunteering during Commencement 2011. We couldn't pull off these wonderful days of celebration without you!
CONTACT INFORMATION:
Mary Kerske, Activities Coordinator
(615) 322-2870
commencement@vanderbilt.edu