Teaching Well
by
Joan Brasher
Apr. 4, 2011, 4:30 PM
The Center for Teaching's new fellowship helps junior faculty craft their curriculum
Phillip Ackerman-Lieberman knows a lot about economics, the Talmud, rabbinic ordination and more. But when he arrived at Vanderbilt in 2009, there was something he wasn't quite ready to handle despite his three master's degrees and Ph.D.
"I had not been in an undergraduate class in a long time," Ackerman-Lieberman explained. "Often my graduate classes were held in a faculty member's office with maybe five other people poring over some ancient text – very different from the undergraduate classes I needed to teach here at Vanderbilt."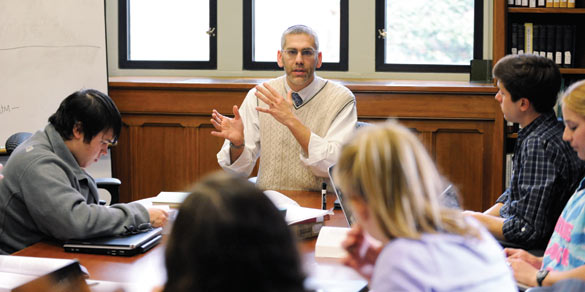 Fortunately for Ackerman-Lieberman, in the fall of 2010 Vanderbilt's Center for Teaching launched the Junior Faculty Teaching Fellowship for tenure-track junior faculty. He applied and was accepted into the inaugural group with seven of his peers.
All faculty have access to CFT services such as one-on-one consultations, classroom observations, mid-semester course evaluations, teaching workshops, faculty panel conversations and visits to senior faculty classrooms. But the fellows have enjoyed even more personalized attention. They participate in a course-design working group, dinners with senior faculty mentors, a more directed set of consultations and an end-of-year colloquium on the development of their teaching.
"Faculty spend 40 to 60 percent of their work life teaching. It's important that they are effective and enjoy it," said CFT Assistant Director Joe Bandy, who coordinates the fellows program. "We were keen on developing a program that provided a set of opportunities for junior faculty to hone teaching skills and ultimately improve their chance for tenure. The overarching goal is that all these experiences we are offering will provide a community built around teaching, so the fellows can feel integrated into the university and develop as they address various teaching concerns."
For Ackerman-Lieberman, assistant professor of Jewish studies and law and affiliated assistant professor of Islamic studies and history, the fellowship meant a complete change in mindset to reach undergraduates.
"I had to reacquaint myself with the undergraduate experience – the way undergrads think, the way they learn," he said. "Many come from a high school environment where they were a big fish in a small pond, and now they are surrounded by other high achievers and are intimidated. I needed to create an environment in which students felt comfortable acting and reacting."
Observing senior faculty members' classrooms was vital to rethinking his approach to pedagogy.
"The CFT fellowship has been valuable for giving me a sense of what goes on in the undergrad classroom," he said. "Just sitting in on other people's undergraduate classes and watching their teaching styles has been very rich for me.
"Noticing how and when the faculty member hands over materials, how they structure time, what techniques they use to draw out students … has been extremely helpful in crafting my own course structure."
"This fellowship is unique in that it allows junior faculty to learn teaching skills from some of Vanderbilt's most effective senior faculty members," Bandy said. "We ask each fellow to participate in two faculty visits per semester followed by an hour of conversation with the faculty hosts, facilitated by our staff."
Research on junior faculty career trajectories suggests that teaching is often the most challenging and time-consuming part of the early years on the tenure track, so the fellowship program aims to make participants as efficient and effective as possible in that role, CFT Director Allison Pingree said.
"Our program builds on similar models of tenure-track faculty development at peer institutions and enhances and deepens the work we already were doing with junior faculty," she said.
The fellowship includes a series of dinners in which the participants spend time with senior faculty to discuss issues like work-life balance and research challenges. There are one-on-one consultations with CFT staff to discuss any problems or challenges being faced in the classroom, and focus groups are hosted to evaluate teaching effectiveness.
The fellowship demonstrates the power that can be found in collaboration, said Richard McCarty, provost and vice chancellor for academic affairs.
"These talented teaching fellows, their senior faculty mentors and Center for Teaching staff have joined forces to develop effective strategies for improving the quality of teaching at Vanderbilt," he said.
The fellowship has moved Ackerman-Lieberman to make important changes in how he runs his classroom.
"For undergraduates, I'm shifting away from a primary emphasis on texts," he said. "I break it up a little bit, because it's not that exciting, especially for first-year students. And in my law class, rather than focus too long on an historical sweep, I'm letting the students get into cases sooner."
Another fellow in the program, Jinah Kim, said it has unexpectedly opened up ways for her to participate in critical analysis of many aspects of the teaching process.
"As faculty, we engage in these types of discussions with our colleagues at one time or another, but being part of the program provided me with a chance to do so more formally at regular intervals with the excellent guidance of the outstanding directors," said Kim, assistant professor of history of art. She came to Vanderbilt in 2006 after earning her Ph.D. in history of art at the University of California-Berkeley.
"I am always looking for different ways to engage with my students better because my courses cover material that is foreign to most students," she said. "Visits to different classes gave me inspiration for how to present my material more interestingly and effectively."
Discussions with other fellows and CFT staff members helped Kim to find solutions when she found her students were struggling in her Himalayan art class.
"I was extremely concerned about whether my students were learning the material or not. I noticed that the foreign terms and names in Sanskrit, Tibetan and Nepali often created a mind block for the students and prevented them from learning to their full intellectual capacity.
"Katharine Baker, who has been my CFT consultant, gave me the idea of letting students fill out index cards with their questions or comments about each lecture and turn them in at the end of class," Kim said. "This turned out to be extremely helpful for me to know what to address in the next class, and I think students had a sense of shaping the course."
As this semester comes to a close, the fellows now have a whole new way of looking at their teaching methods for the semesters
to come.
"I think the whole point of it is to be more reflective about your teaching," said Ackerman-Lieberman. "It's important to carve out your time to meet with other faculty, to learn from each other and to take time to develop future courses."
Added Kim, "It has been helpful to know that other faculty members face similar challenges when it comes to balancing the content and the critical perspectives in their teaching. There isn't always a single answer, but it has been helpful to explore the different ways to deal with those challenges."
Originally published in Vanderbilt View