Stylish Send-off
by
Joan Brasher
Apr. 4, 2011, 4:45 PM
This year's Commencement will incorporate cool technology, sleek branding and armchair viewing

Tricky names should ring out more accurately at Vanderbilt's Commencement exercises this year. Finding a comfortable place to watch the festivities also will be easier.
Innovative new technology to correctly announce graduates' names will free up Vanderbilt's deans for more enjoyable tasks, while there will be more indoor spots than ever where friends and family members can go to escape the heat but still see their graduate get his or her due.
It's all part of the continuing upgrades being instituted by Matthew Redd, who took over the massive job of orchestrating Vanderbilt's Commencement last year.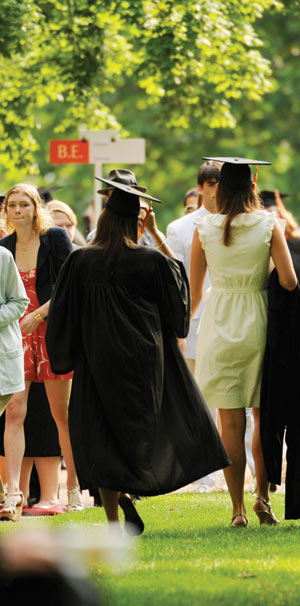 "Every year you have a new audience to please, so there's no resting on your laurels," Redd said. "And there are always things afterward that you know you can do better, so it's an ongoing process to make the event the absolute best experience it can be for our graduates and their families."
Redd is working with Marching Order, a company that provides systems for enhancing the graduation process, to craft a system in which graduates' names will be prerecorded by a professional voice-over artist. When each graduate approaches the stage, he or she will scan a digitally encoded card, which will trigger the reading of their name as they receive their diploma.
"We really are the trendsetters on this card system – no one has done anything quite like it," Redd said. "The cards will help us regulate the pace, reduce stress and eliminate errors."
The key benefit to having graduates' names prerecorded, he said, is that deans will no longer be confined to the podium, reading name after name. Instead, they will be free to move to the front of the stage, shake hands with graduates and join in the celebration. If a card goes missing or a malfunction occurs, no need to worry. The voice-over talent will be on hand to announce names live if necessary.
"I am delighted to see the new system," said Blair School of Music Dean Mark Wait. "Instead of reading names at a distance from the students, the deans will be able to congratulate our students personally. This is part of what makes Vanderbilt so special."
Senior Nicole Gunasekera agrees.
"I am excited that Vanderbilt is using this new system and making such an effort to ensure that our graduation runs smoothly. Being able to interact with the deans will make the experience even more memorable for me," she said.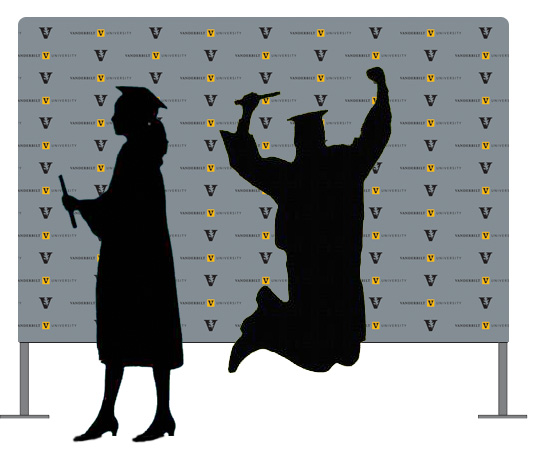 Also this year, campus will have a more modern look and feel during Commencement, thanks to some innovative branding efforts and new signage.
For the first time, a large photo backdrop emblazoned with Vanderbilt logos – much like the corporate-sponsored backdrops used at red carpet events – will provide a fun place for graduates to take photos before entering the annual Strawberries and Champagne event.
"In the past, when people took pictures there was no branding. Those snapshots could have been taken anywhere," Redd said. "We wanted a place for the graduates to take pictures with their friends and family that put context to the date, time and place. I think it will make their photos even more special and memorable, and it will be a lot of fun."
The branding efforts don't stop there. Bike racks, which are traditionally repurposed as barriers for crowd control during Senior Day and Commencement, will be draped in customized black covers embellished with the Vanderbilt logo. Even the Igloo water coolers being installed to take the place of individual water bottles on Senior Day and to supplement Commencement Day will have heat-resistant canvas covers boasting Vanderbilt insignias.

"We couldn't put out a bunch of orange coolers during Vanderbilt's Commencement week, could we?" said Redd with a smile.
The branding efforts will incorporate some unique new signage. "Windwavers," colorful 9-foot-tall signs that catch the breeze, will direct visitors to such areas as first aid, information, the wheelchair station and more.
"The windwavers will add a festive touch, but they are functional as well," Redd said. "Because they are so tall, they will definitely help visitors find what they're looking for quickly." A multitude of "you are here" signs and procession windwavers will be placed strategically to direct graduates where they need to line up.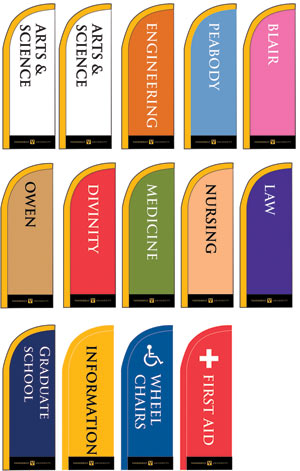 "The idea is to bring a cleaner look to the festivities and continually improve upon the quality of this very important event," Redd said. "Commencement is really the reason we are all here. The graduates have received a world-class education, and we want their send-off to reflect that."
Another upgrade to the Commencement ceremony is the additional seating that will be provided. About 300 chairs will be added to Alumni Lawn, bringing the total to around 15,000. About 1,000 more seats will be made available in air-conditioned indoor screening areas – complete with big screen TVs or large projection screens and comfortable seating – at nearby Neely Auditorium, the Admissions/Old Gym building, Sarratt Cinema, the Memorial Gym practice gymnasium and various locations within Rand Dining Center. Get there early enough and you might get to watch the ceremony from the comfort of the famed baseball glove-shaped chair in Rand's Baseball Glove Lounge.
"There are always individuals at Commencement who are more sensitive to the elements," Redd said. "The indoor seating options will be essential for getting people
out of the heat while keeping them close to the action."
Commencement also will be streamed live at Vanderbilt.edu for those who want to tune in to the festivities without leaving their office or home.
For complete, up-to-date information about Vanderbilt Commencement 2011, visit the Commencement website.