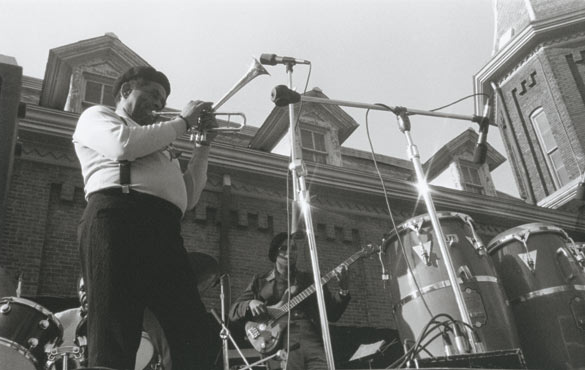 Vanderbilt held its first "Rite of Spring" celebration May 7-9, 1971, when the Cultural Affairs Council sponsored three days of activities open to the campus and Nashville communities. The free event offered something for everyone: an arts and crafts fair; performances by the Nashville Symphony, Nashville Ballet and Fisk Jubilee Singers; screenings of experimental films; a puppeteer; a community barbecue and square dance; and the "Programmatic Sensorium," Professor of Fine Arts Don Evans' interactive exhibit consisting of a large plastic dome participants would sit inside to experience a combination of colored lights, photo slides, motion pictures and impressionistic dance set to Moog synthesizer music. A highlight of the first festival was folk singer Livingston Taylor's intimate concert in Neely Auditorium sponsored by the Vanderbilt Student Association.
Over the next few years, the renamed "Rites of Spring" was stretched to a week of eclectic programming, including concerts, Vanderbilt University Theatre productions, poetry readings, dance performances, mime troupes, bicycle races, kite-flying contests and even, in 1975, an appearance in Memorial Gym by the Emmett Kelly Jr. Star-Spangled Circus featuring Tony the Wonder Horse and television's Gentle Ben.
In 1975, the Tennessee Jazz Festival was held on campus for the first time to coincide with Rites of Spring. For several years, artists from the jazz festival served as featured Rites performers, including Dizzy Gillespie, who played Alumni Lawn on April 9, 1977 (pictured), and again in 1981. In recent years, Rites of Spring has focused increasingly on music, bringing to Vanderbilt nationally prominent and emerging acts from a variety of musical genres: Red Hot Chili Peppers in 1989, Smashing Pumpkins in 1994, Run DMC in 1998, The Black Eyed Peas in 2002, Hootie & The Blowfish in 2005, Lady Antebellum in 2008 and Drake in 2010, among many others.
Rites of Spring will mark its 40th year April 15-16 on Alumni Lawn. Featured acts for 2011 include Public Enemy, The National, Kid Cudi, Edward Sharpe & The Magnetic Zeros, Sara Bareilles and the duo Matt and Kim. For a complete schedule and ticket information, visit www.vanderbilt.edu/ros.