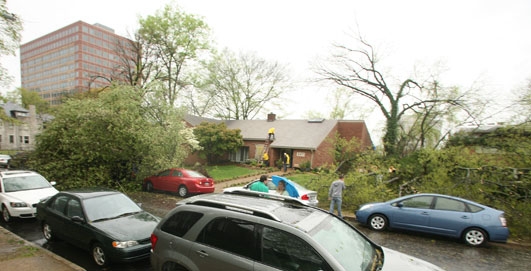 Electricity remains out this evening along Greek Row due to a blown transformer. The student residents of Greek Row are being directed to stay with friends tonight. The Office of the Dean of Students has identified vacant rooms in the housing system and are setting up an assignment process at the Branscomb Quadrangle desk for students who need a temporary room assignment.
Extra police are stationed in the area to ensure property is protected.
Kensington Place and the two alleys off Kensington Place will be closed until cranes can come in, probably Tuesday, to remove trees that have fallen on cars.
University officials are advising students to notify their personal insurance company if their vehicle has been damaged, but no plans should be made to have the cars removed until after the trees and fallen limbs are cleared.
Anyone in the area is being advised to call (615) 421-1911 on their cell phones to report any fires. In the event of a fire, alarms will sound but Emergency Management Services will not be automatically notified because the telecommunication system is not expected to be restored until Tuesday.
High winds that swept through the Vanderbilt campus shortly after 2 p.m. April 4 left the area buildings without power. The roof of the Kappa Kappa Gamma house was damaged, resulting in a leak, and the Sigma Nu house roof was also damaged though less severely. No other power outages were reported on campus.