Editor's Note
by
Joan Brasher
Apr. 4, 2011, 1:30 PM
It's one thing to get a paycheck. It's quite another to turn around and give some of that paycheck back to your employer. I mean, please. Who does that?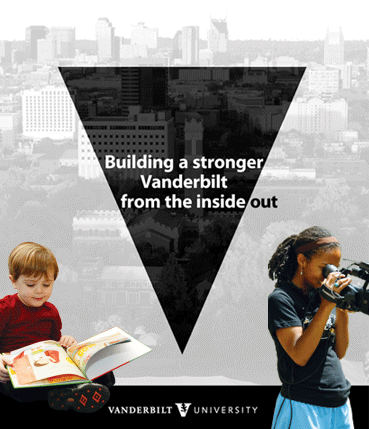 Apparently, a lot of people at Vanderbilt, considering that last year faculty and staff collectively gave back more than $1 million in the Faculty-Staff Campaign to support the programs and departments at the university that mean the most to them.
Vanderbilt must be a pretty special place for that to happen. Or more likely, it's the people that make Vanderbilt the special place that it is.
Now, I know that for some this is a place of employment – a place to do good work and then go home. But for many of us, me included, it's more than that. I run the risk of sounding sappy, but in the past eight years, for me Vanderbilt has become a home of sorts. It's shaped my identity, broadened my horizons and served as a surrogate family. It's been my soft place to land in hard times, a resource center and a safety net.
A key example is the Vanderbilt Child and Family Center on Edgehill Avenue. From the day I left sobbing after dropping Jack Henry at the infant room five years ago, to leaving him at the pre-K class this morning (less sobbing this time), Vanderbilt child care has helped me navigate the uncharted waters of being a first-time mom at 40.
As the boy progressed from class to class, the teachers gently prodded me toward letting my baby grow up, alerted me to when it was time to give up sippy cups, transition from diapers to Pull-Ups and retire his fancy baby clothes for more playground-friendly attire.
They advised me on ailments, scrapes, sniffles and coughs and comforted without fail when there were tears, be they the boy's or mine. They brought in their own craft supplies and books, pulled out their guitars and sang songs, kissed boo-boos and loved my child as if he were their own. So for me, yes – Vanderbilt is worth giving some of my paycheck back.
You may not have a story like mine. But if you think hard about it, you may realize there's something about Vanderbilt you want to leave your stamp on, even if it's in a small way. Maybe it's the Employee Assistance office, which came to the aid of so many affected by last May's flood. Or maybe it's the baseball team that makes you proud to be a 'Dore. Perhaps there's a scholarship you believe in, or you want to support all the wonderful new changes at Central Library. Maybe a loved one has received care at Vanderbilt University Medical Center or the Monroe Carell Jr. Children's Hospital. If that's the case, you might consider giving to the Faculty-Staff Campaign.
One of the first stories I worked on when I was hired at Vanderbilt as an assistant editor for the Vanderbilt Register was about professor Gisella Mosig and her $1 million posthumous bequest to the university. I remember thinking what a generous gift that was and secretly hoped that one day, I might be able to do the same.
Well, I'm pretty sure I won't have that kind of money when I retire from this earth, and if I have any at all, the boy is first in line to get it (sorry Vanderbilt).
But I can be a small part of that generous contingent who cares enough about its employer's mission to want to invest in it, whose small gifts add up to an awful lot. I hope you'll join me. Visit the Faculty-Staff Campaign website to learn more.
Joan Brasher
Editor in Chief, Vanderbilt View